NKVD, KGB & Police IDs and Documents
*CLICK ON THUMBNAIL OR ITEM NAME TO VIEW FULL DESCRIPTION AND PHOTOS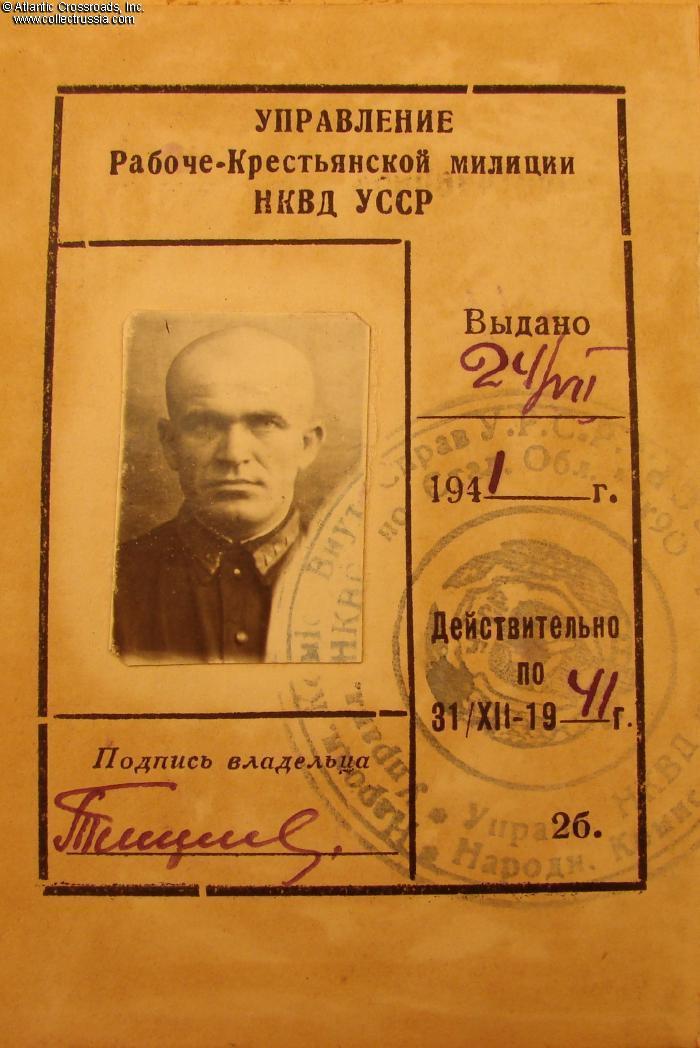 Photo ID of NKVD Squad Leader, December 1941 issue by the NKVD Police Directorate of the Stalino (Donetsk) Region in Ukraine. This highly unusual NKVD ID has plain cardboard cover instead of the standard pre-war rubberized cloth or leather binding - apparently an expediency reflecting the dire situation with supplies in the first months of the Patriotic War. In excellent condition.
$150.00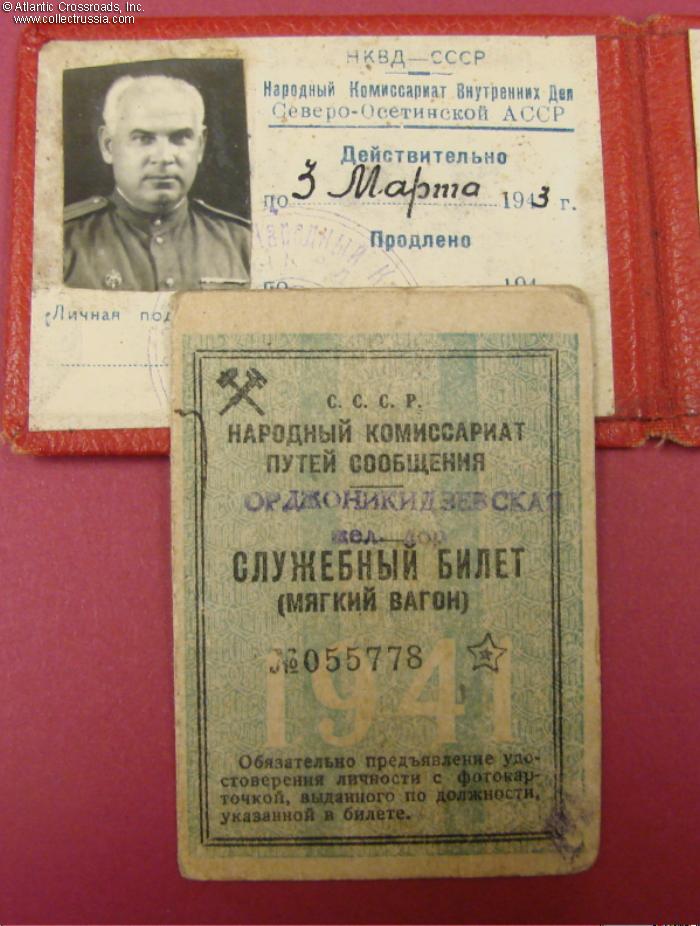 Photo ID of a State Security Senior Lieutenant, a Section Chief with the NKVD of North Ossetia Autonomous Republic, 1943. The photo shows the owner wearing a badge of Distinguished NKVD Employee on an M-43 uniform. Comes with a special free railway transportation pass from February 1941 issued to the same officer.
A very interesting and uncommon set.
$340.00
ID Card of an NKVD Border Guard, 1942 issue. Shows that he served as Border Guard since 1939, was promoted to Sergeant in June 1941 (just days before the German invasion) and then convicted for unspecified crimes. The ID was issued just before he was sent to the front, apparently after having his rank restored.
$140.00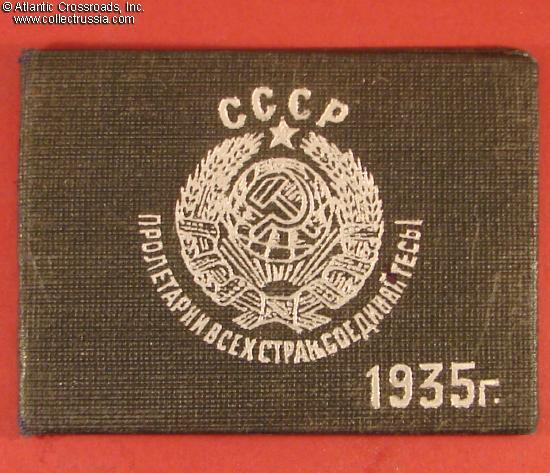 NKVD Transportation Department Photo ID, 1935 issue. Uncommon early ID featuring USSR State Emblem with 7 republics. In excellent condition.
$150.00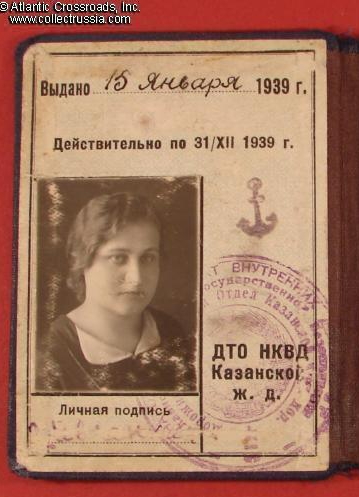 NKVD employee Photo ID, issued to a female typist in the NKVD Transportation Department at the Kazan Railroad, January 1939. In very good condition.
$160.00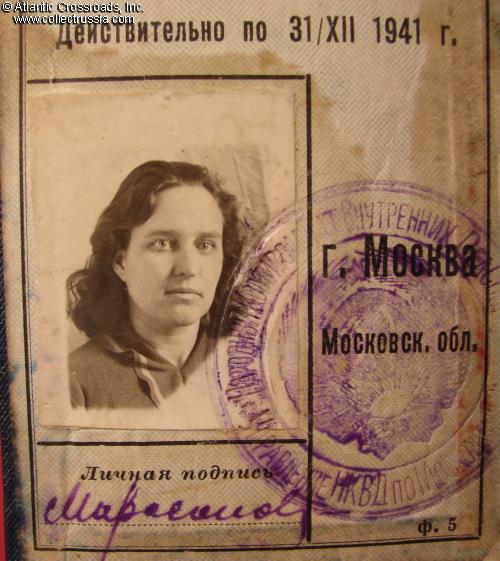 Photo ID of a female secretary at the Moscow NKVD, issued on 23 May 1941, just one month before the German invasion.
$160.00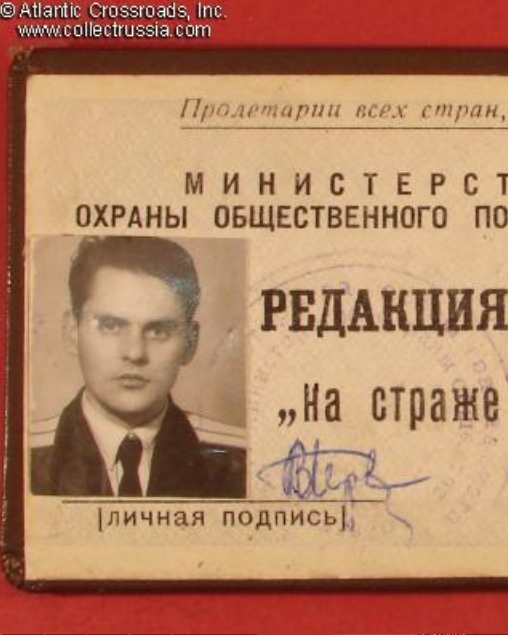 MOOP Photo ID of a Police Officer, correspondent of the newspaper Na Strazhe Oktyabrya ("Guardian of the October [Revolution]") published by the MOOP of Belorussia. Issued in 1966.
$80.00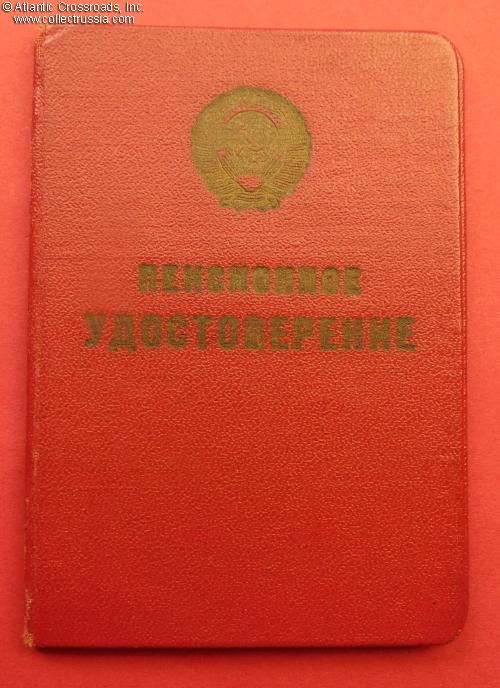 KGB Pension Book #046945, issued to a KGB Lieutenant Colonel in 1968. In excellent condition.
$60.00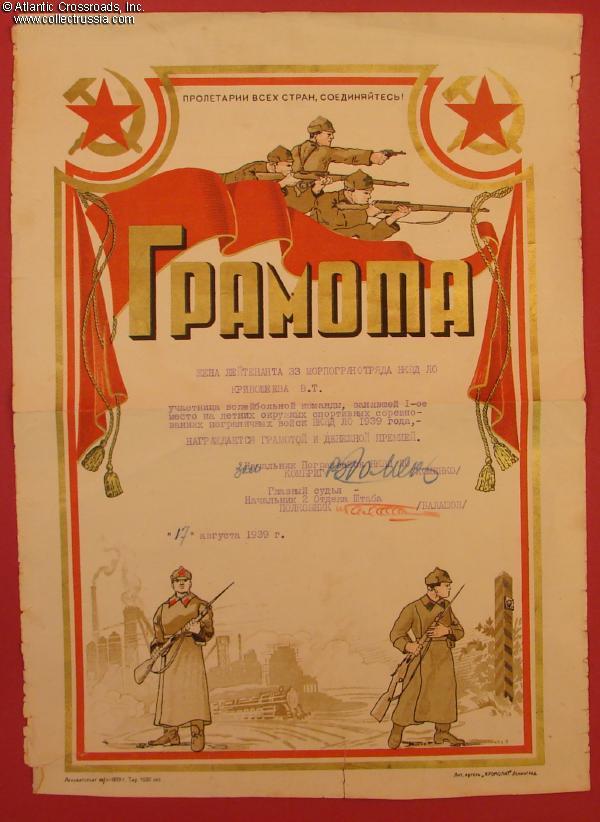 Honorary Certificate issued in August 1939 to the wife of an NKVD Naval Border Guard officer in Leningrad Region. She was given the certificate and a monetary reward for winning first prize in NKVD sports competition. Nice artwork specifically designed for NKVD: shows NKVD Internal Army trooper guarding the industrial installations and NKVD Border Guard on patrol near a border marker. In very good condition.
$395.00
Honorary Certificate in Commemoration of the 20th Anniversary of NKVD Border Guards, February 1941 issue. A very ornate document featuring portrait of Stalin, Border Guard flag, and a Badge of Distinguished Employee of NKVD. Hand-signed by Lt. General Sokolov, chief of the Soviet NKVD Border Guard Directorate and one of the highest ranking NKVD commanders. This very impressive and uncommon document is in very good to excellent condition.
$375.00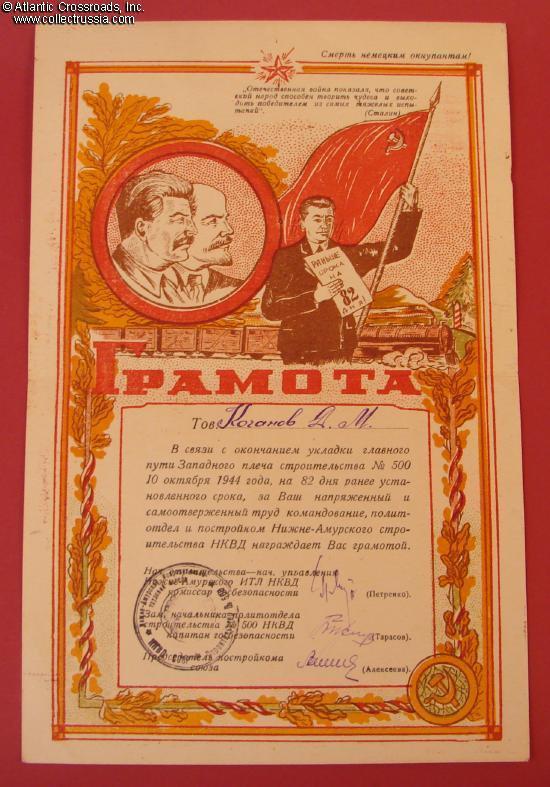 Honorary Certificate issued in October 1944 by an NKVD Correctional Labor Camp. Awarded for completing the assignment - laying a part of the main track of the Baikal-Amur Railroad - 82 days ahead of schedule. Unusual and colorful artwork features portraits of Stalin and Lenin and a railway train speeding through the forest.
$250.00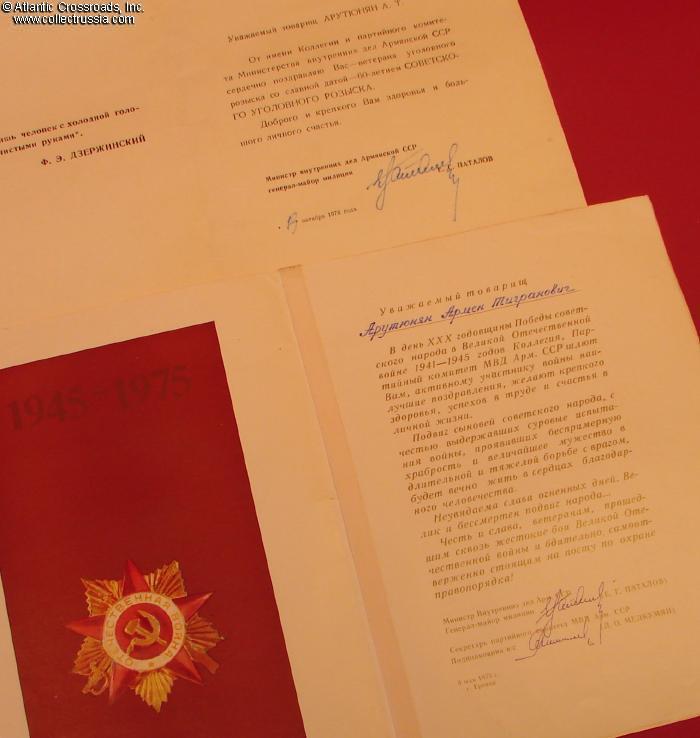 Lot of 2 Greetings to a high ranking Police Detective and WW2 Veteran, an Armenian national. Both are signed by Police General Patalov, Minister of Interior of Armenia.
$90.00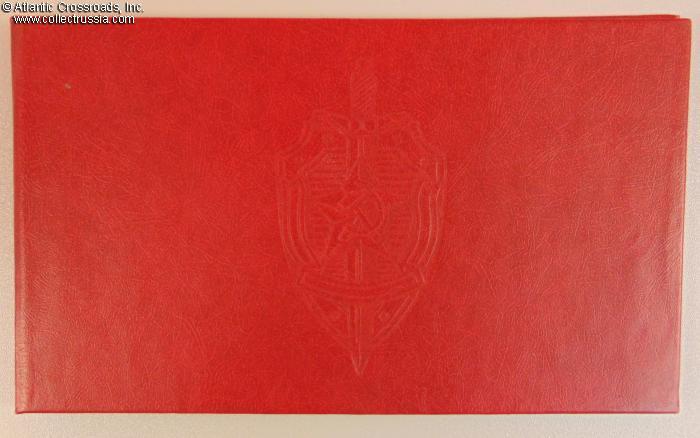 KGB Honorary Certificate to a major, 1987. Fine-quality hard booklet with an impressed KGB sword & shield emblem.
$85.00