Since 1993, Atlantic Crossroads has been bringing quality Russian Militaria and Collectibles - with the focus on Imperial Russia, World War Two and Soviet era - as well historic artifacts from other countries to collectors in the USA and worldwide. We have grown to meet a steady increase in interest in Russian and Soviet military history while maintaining a sterling reputation for integrity and customer satisfaction. All of our items come with a no-nonsense guarantee. Atlantic Crossroads, Inc. is a participant in good standing of the Better Business Bureau's Online Reliability participation program and meets the high standards of the Better Business Bureau, a highly respected consumer advocacy group.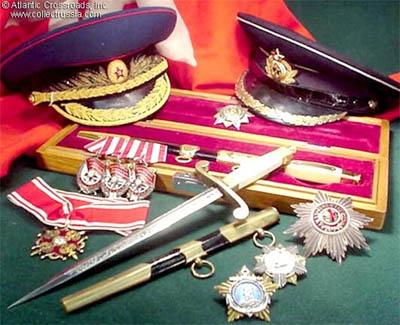 We have a high profile presence not only on the Internet and in historical magazines such as "Military History", but also at all the major collecting events across the USA. Every year we have the great pleasure of meeting many of our customers at the Max Show, the OMSA Convention and the OVMS "Show of Shows."
We are members of the prestigious Orders and Medals Society of America, Manuscript Society of America, Ohio Valley Military Society and the Order and Medal Research Society of England.
Our sources are a network of knowledgeable professionals and collectors spread across the former USSR, Eastern Bloc, Western Europe and the United States. Numerous items purchased from us have literally become "textbook examples" appearing in books such as McDaniel and Schmitt's landmark reference "The Comprehensive Guide to Soviet Orders and Medals." Even movie studios have turned to us to find rare items, from the North Korean medals used in one of the Pierce Brosnan James Bond movies to a number of the background artifacts in the "Soviet" scenes in "Salt", an Angelina Jolie spy movie.
Not only do we pride ourselves on the variety and quality of rare merchandise we have been able to offer over the years, including noted Marshal's groups and dozens of Hero groupings, we are especially proud of the fact that a CollectRussia.com customer almost always returns to buy again.