Imperial Russian Antiques
*CLICK ON THUMBNAIL OR ITEM NAME TO VIEW FULL DESCRIPTION AND PHOTOS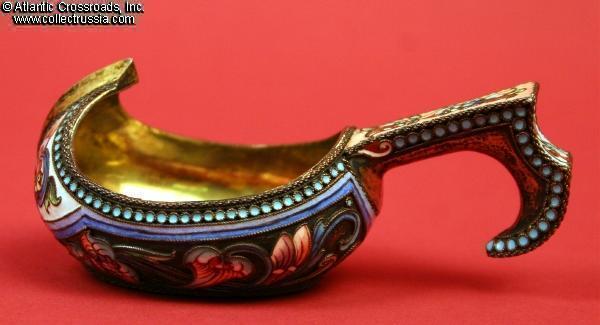 Moscow-made Silver Gilt Kovsh with exquisite Shaded Cloisonné Enamel, C 1899.
To see a broad selection of Imperial Russian objects fashioned of silver, please visit our "Imperial Russian Silver" section.
$1,600.00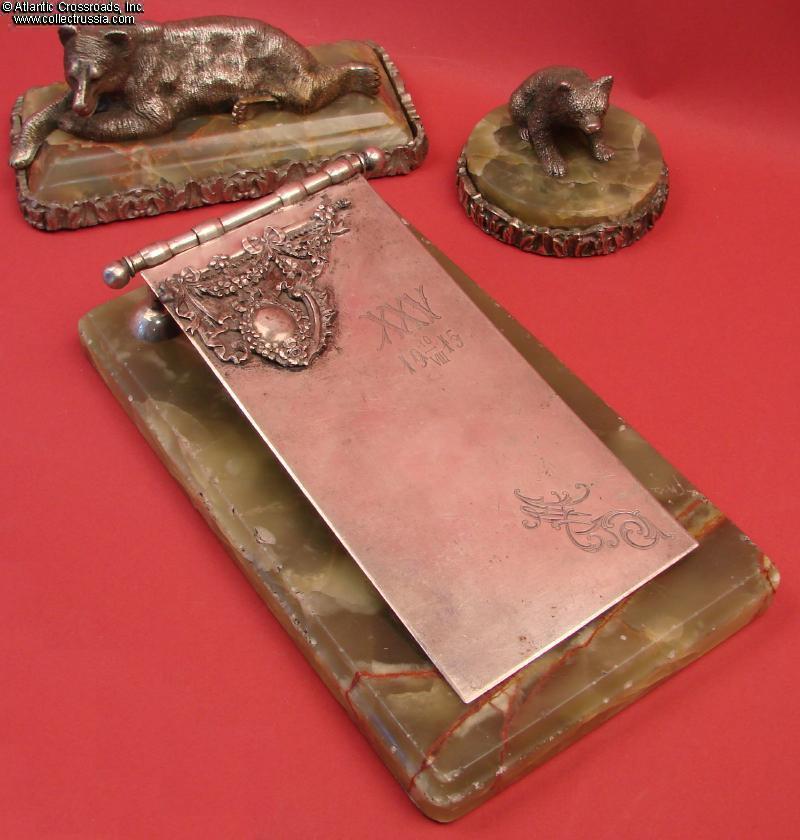 Antique Imperial Era St. Petersburg Desk Set Attractive and interesting desk set comprising a calendar holder and two paperweights mounted with sculpted bears.
$2,200.00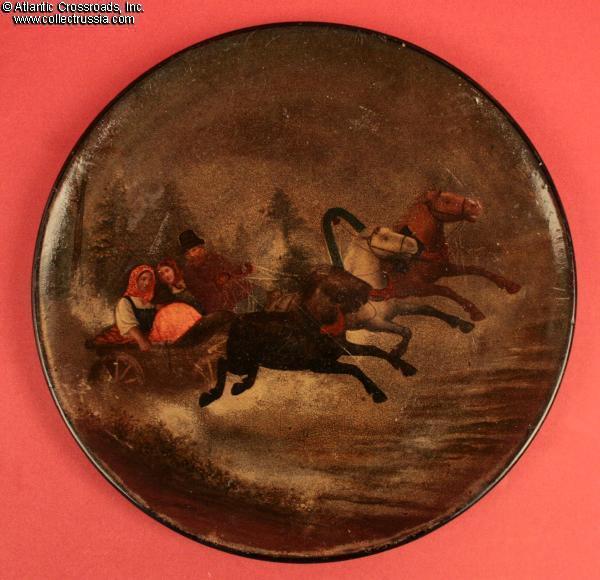 Fedoskino Summer Troika 8" lacquer plate from the Vishnyakov Workshop, circa 1880s-1890s.
$525.00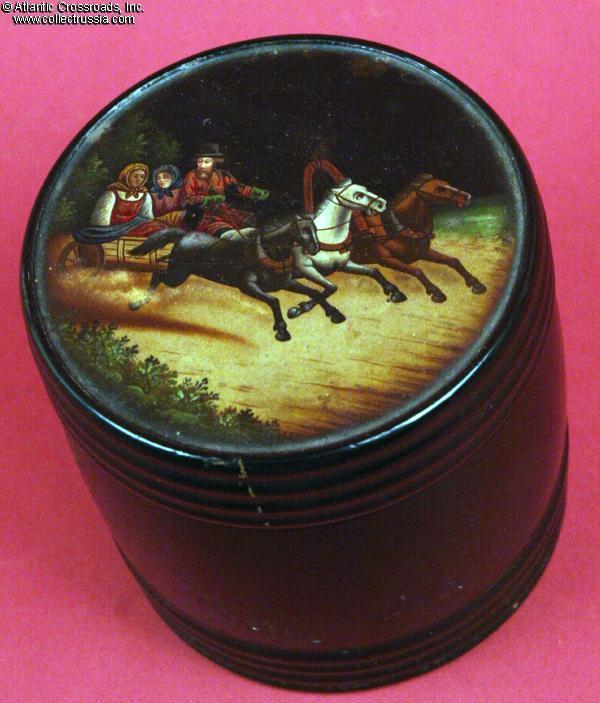 Fedoskino Summer Troika lacquerware "keg" from the Vishnyakov and Sons Workshop, circa early 1880s. Designed for use as a caddy for either tea or tobacco. 3 ½ " in dimeter, 3 5/8" high.
$740.00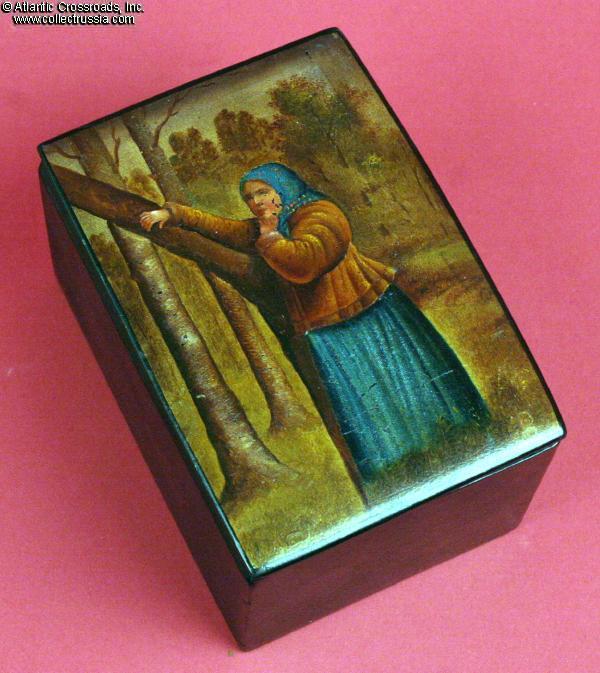 Lacquer tea caddy probably from either the Vishnyakov or the Lukutin workshops in the Fedoskino region. 3 ½" x 3 1/8" x 5 ¼". Circa 1900.
$640.00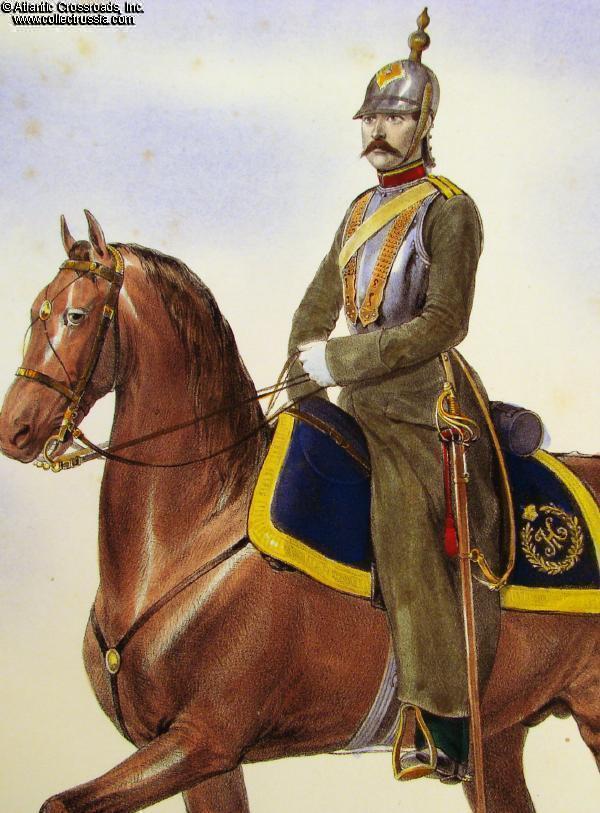 Cavalry officer in winter uniform, Cuirassier Regiment of the Military Order of St. George from the 1854-1855 period. Large hand- colored lithograph printed soon after the Crimean War, in very fine condition.
To find a selection of other fine Russian Imperial military prints, please visit our "Imperial Russian Posters, Lithographs and Books" section.
$245.00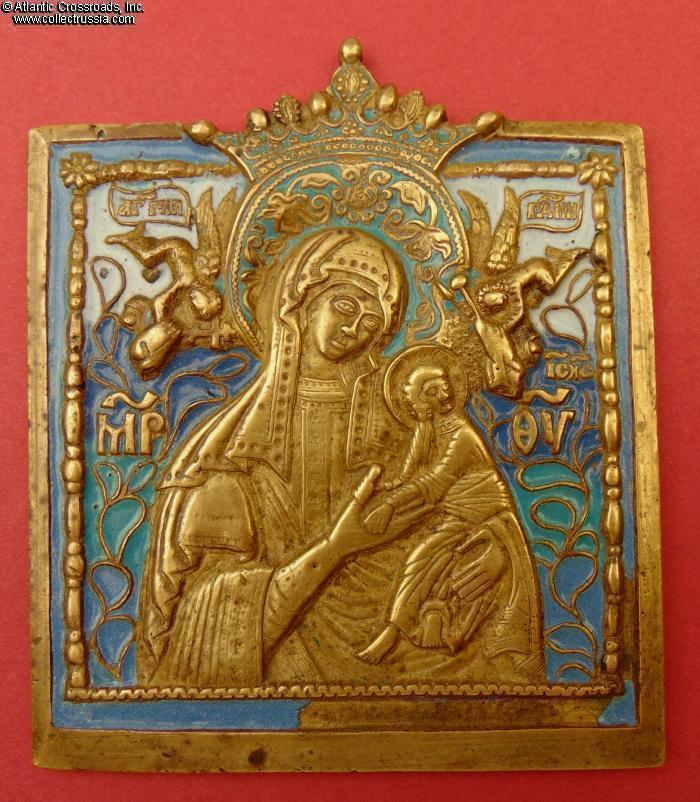 Russian Orthodox Antique Icon of Virgin of Passion (Страстная) in Bronze with Polychrome Enamel, last quarter of XIX - early XX Century. A far less common image than some other depictions of the Virgin in Russian Orthodox iconography. Measures 4 " in overall height. In very good condition.
To see other Antique Russian Orthodox Icons currently in stock, follow this link: "Antique Russian Orthodox Icons"
$450.00