Soviet ART and Presentation Items
*CLICK ON THUMBNAIL OR ITEM NAME TO VIEW FULL DESCRIPTION AND PHOTOS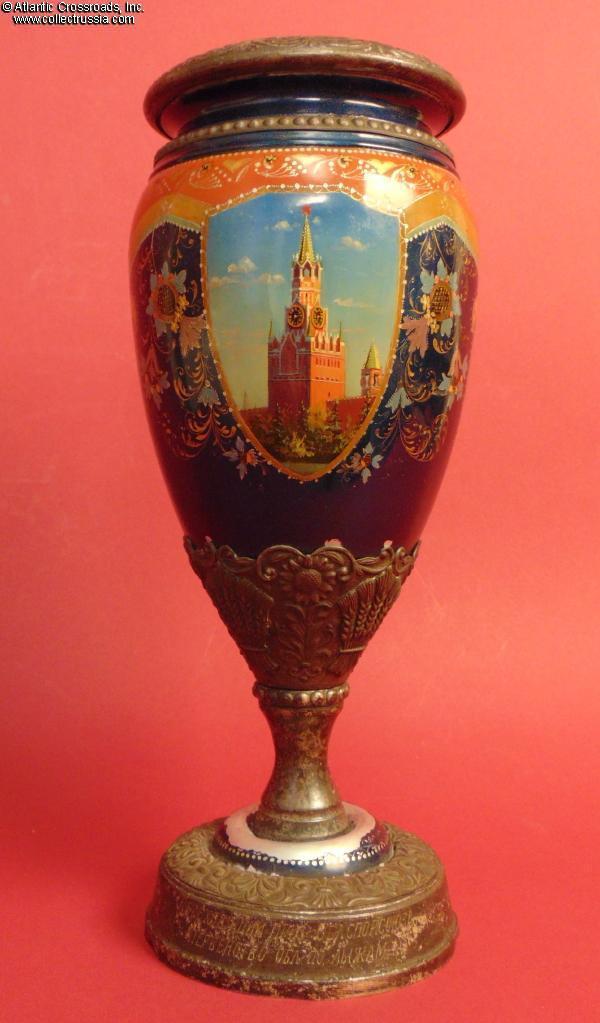 Cup Trophy with Moscow Kremlin, hand-painted in traditional Palekh manner, signed by the female artist, circa late 1940s - mid-1950s. This beautiful and very impressive piece measuring over 12" in height was used as a "transferrable" trophy to a best regional ski team - i.e. passed from one team to the other based on results of the annual tournament. In good condition; missing the lid and shows some wear to the bottom, but the main portion with hand-painted main tower of the Kremlin and florals is perfectly preserved.
$390.00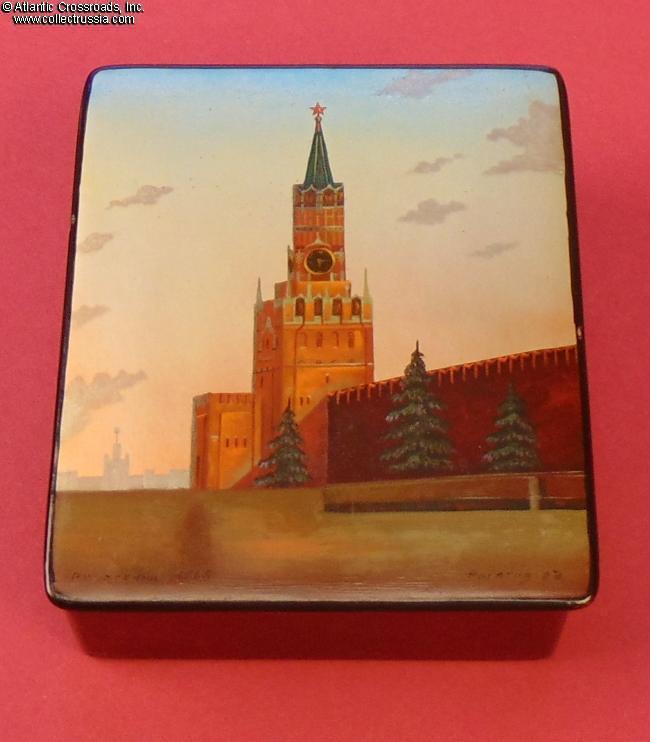 Lacquer Box with a view of Moscow Kremlin, by the Fedoskino artist V. P. Rogatov, signed and dated 1968. The image of the Spasskaya clock tower at dawn, a favorite subject of Soviet lacquer artists, is of stunning artistic quality - far above what we normally see on similar boxes. This hand-painted piece of Socialist Realism art is a true gem!
$350.00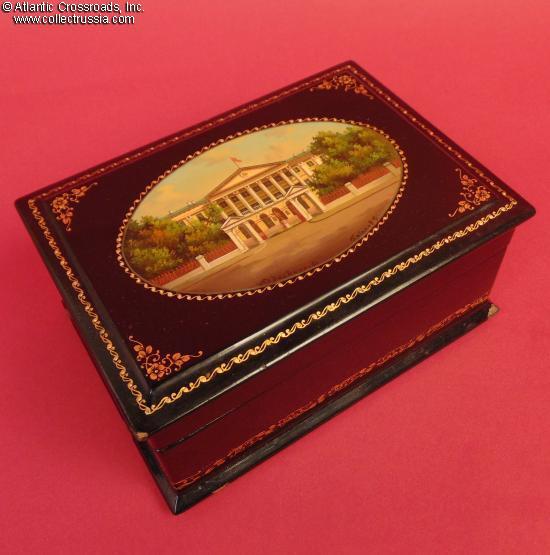 Hand-Painted Propaganda Art Lacquer Box from Fedoskino, probably the most famous center for such work in Russia, dated 1951, with artist's signature. The artwork features Smolnyi Institute in Leningrad (Petrograd), Lenin's HQ during the Bolshevik Revolution in 1917 and a classic revolutionary icon. Measures approx. 6" x 4 ½ " x 2 ½ ", in good condition.
$175.00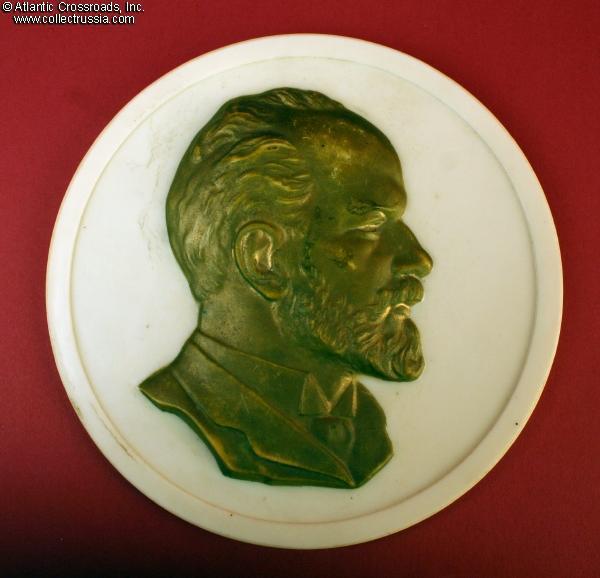 Award plaque with simulated bronze profile of Pyotr Ilyich Tchaikovsky, famous Russian composer of The Nutcracker, Swan Lake and The 1812 Overture.
$65.00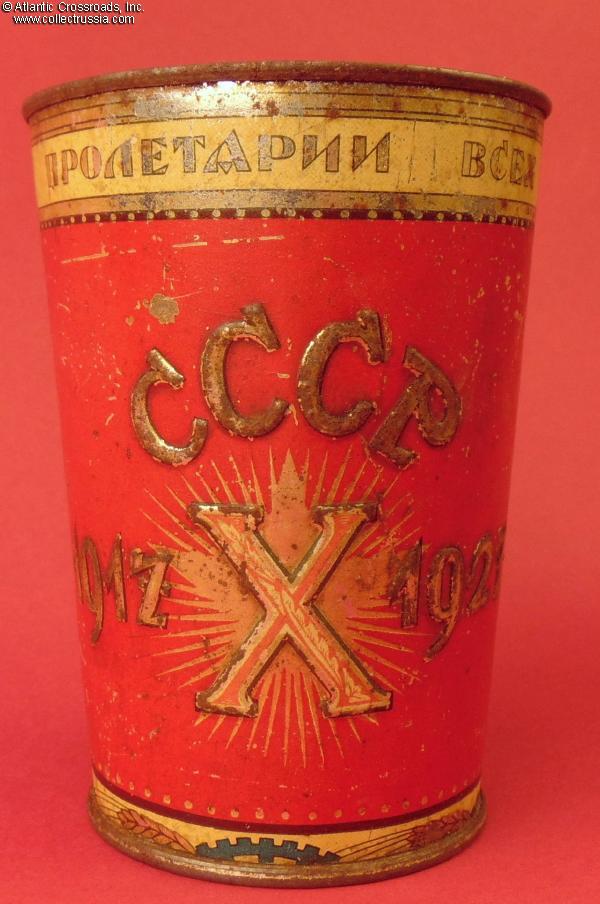 Goblet Commemorating the 10th Anniversary of the October Revolution, 1927. Lithographed and embossed tin. A vivid example of early Soviet propaganda art. In very good condition, among the best examples we have seen.
$375.00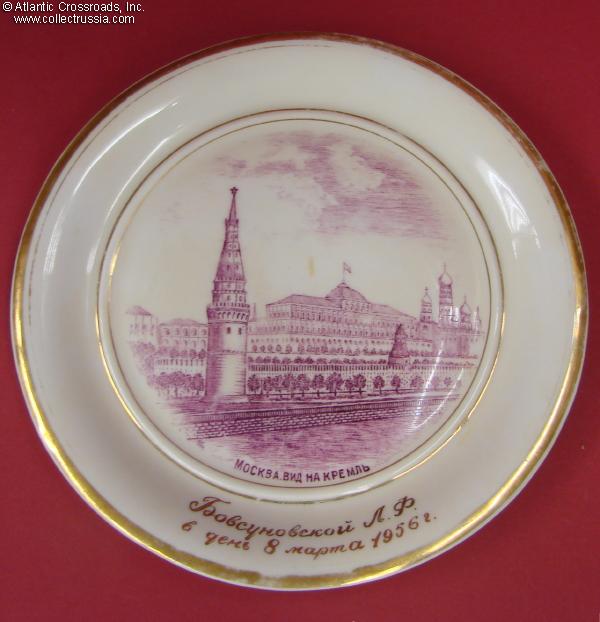 Porcelain Plate "Moscow, View of the Kremlin", Korosten Porcelain Factory, 1955-56 manufacture. Shows presentation inscription made on the International Women's Day of 8 March 1956. Very good condition.
$75.00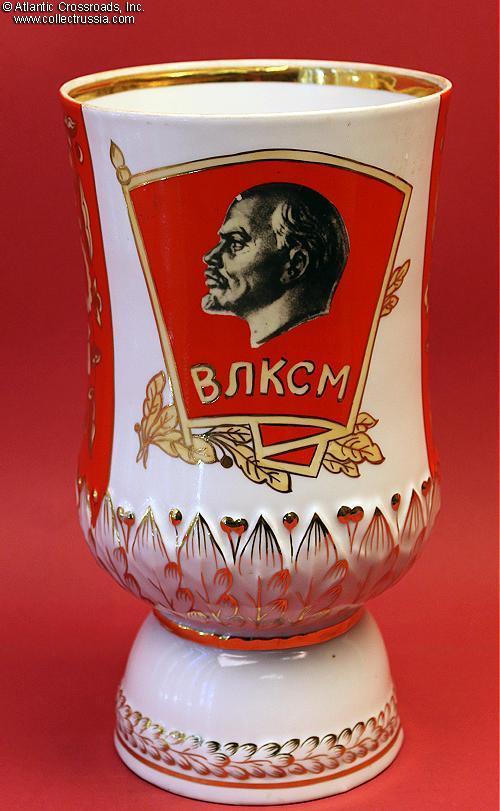 Large decorative porcelain Komsomol presentation vase named to Air Force Colonel-General Vasiliy Stepichev, Baranovka, 1973, 10 ½" tall. Excellent condition.
$245.00