Autographs
*CLICK ON THUMBNAIL OR ITEM NAME TO VIEW FULL DESCRIPTION AND PHOTOS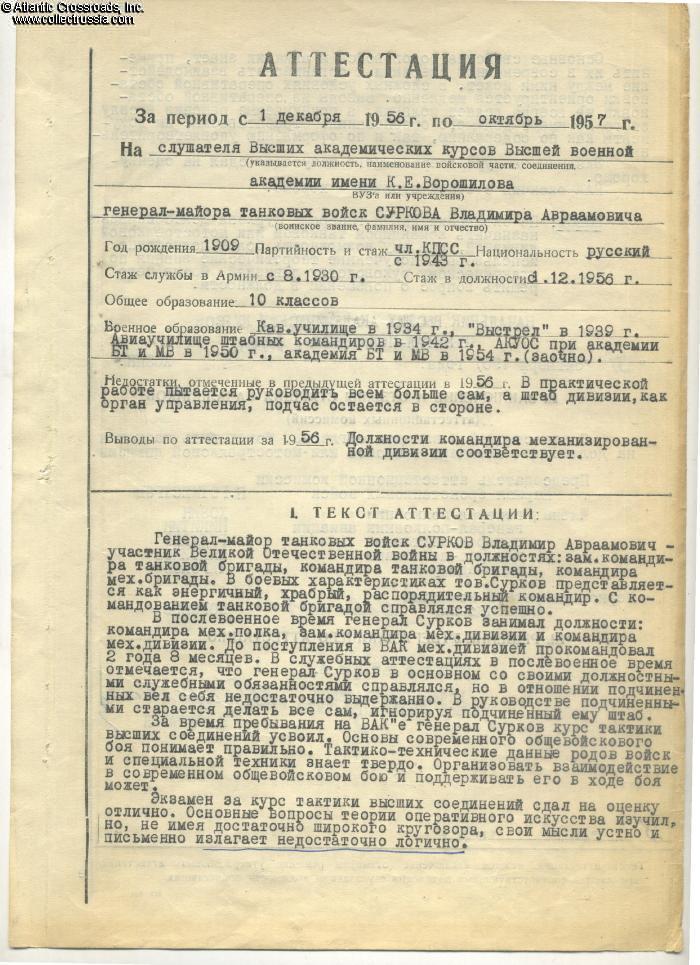 Marshal of the Soviet Union Ivan Bagramyan, Twice Hero of the Soviet Union and Commander of the Voroshilov General Staff Academy from 1956 to 1958, typed document signed. This 1957 document is an evaluation of an Armored Corps General who was about to complete an advanced course of studies at the academy. Although the review submitted by the chief of the study program contained some rather negative points, Bagramyan recommended to keep the general in his previous capacity of a mechanized division commander. The document is in excellent condition.
$150.00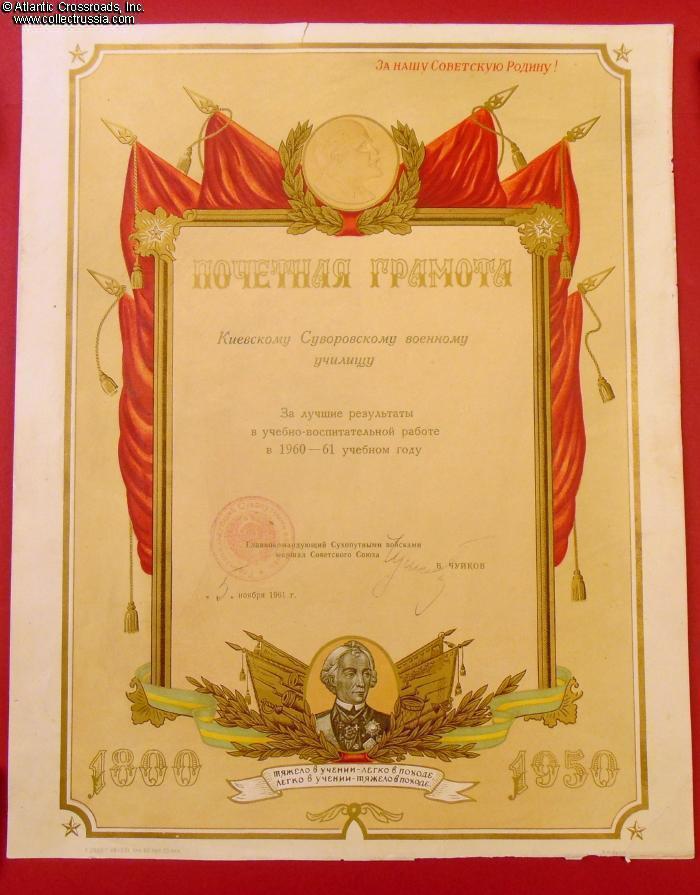 Marshal of the Soviet Union Vasiliy Chuikov, Chief of the Soviet Army Ground Forces, printed document signed. The document is an Honor Certificate for the 1960-1961 Academic Year awarded to the Suvorov Military School in Kiev. Chuikov is the WW 2 Soviet hero most frequently associated the battle for Stalingrad and the capture of Berlin. Measuring nearly 12" x 15", this very large and ornate certificate is exceptionally uncommon being awarded to an institution rather than an individual. In very good to excellent condition.
$370.00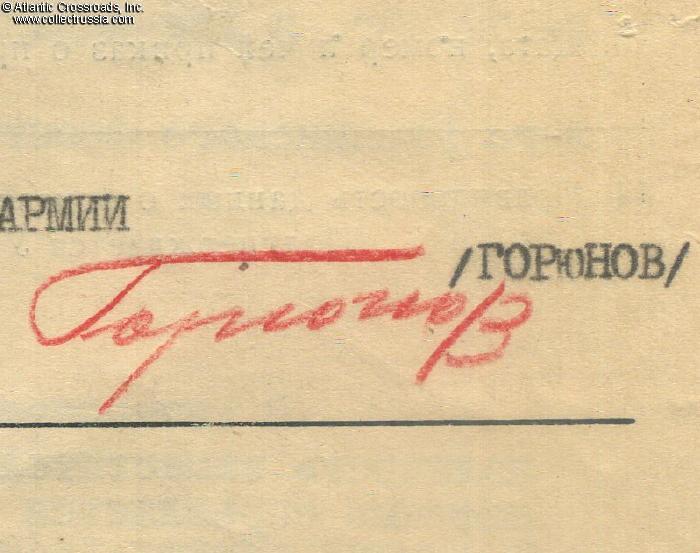 Air Force Colonel General Goryunov, Commander of the 69th Air Army, typed document signed and dated 9 May 1945. A recommendation for promotion of a subordinate officer which includes the officer's photo.
$50.00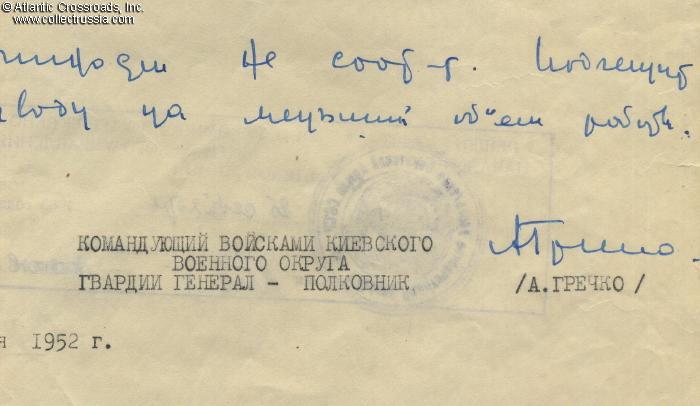 Colonel General Andrey Grechko (promoted Marshal of the Soviet Union in 1955), Commander of the Kiev Military District, document signed with hand-written resolution by Grechko on New Year's Eve, 31 December 1952. For several years in the 60s, he commanded all armed forces of the Warsaw Pact forces before becoming USSR Defense Minister in 1967.
$125.00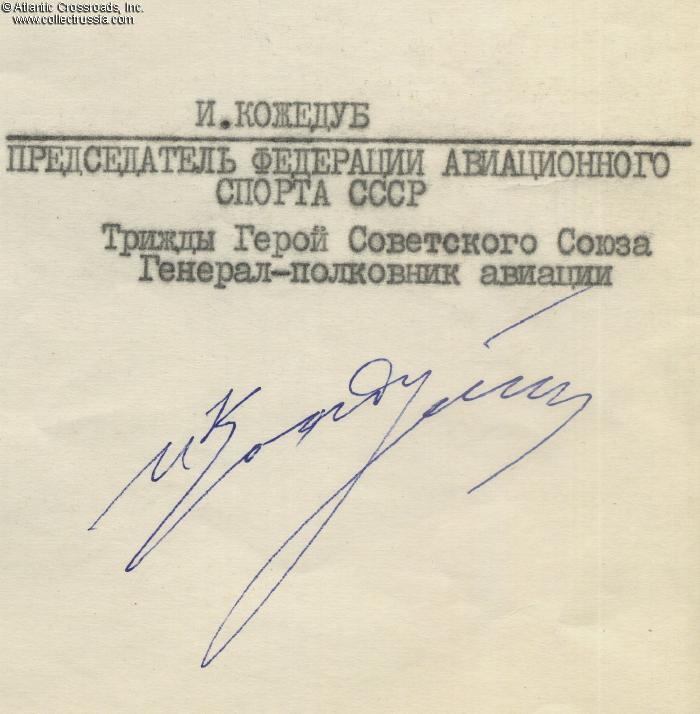 Air Force Col. General Ivan Kozhedub (later promoted to Air Force Marshal), letter signed, June 1972. Kozhedub was the Top Allied Fighter Ace of WWII. The letter is addressed to one of the leaders of the Soviet space program congratulating him on successful completion of two key lunar missions. One of these was Luna 16 spacecraft which was the first to return a sample of lunar soil to Earth, while the other, Luna 17, landed the famous moon rover Lunokhod 1. The document is exceptionally interesting not only as an autograph of the top allied air ace of WW2 but also from the standpoint of history of space exploration.
$150.00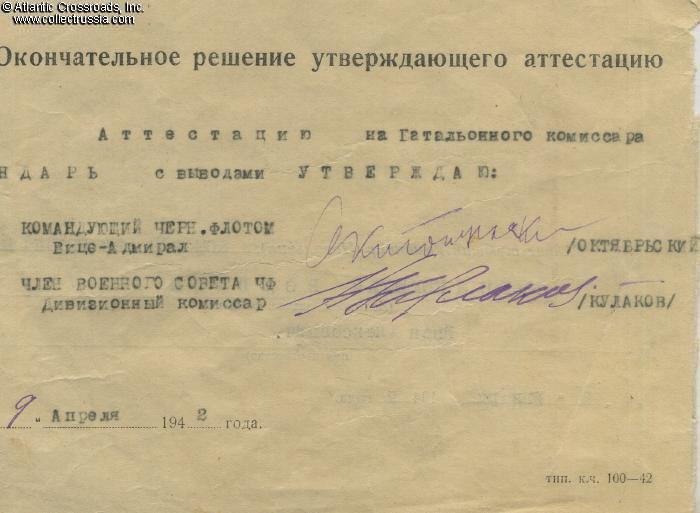 Vice Admiral Filipp Oktyabrsky, Commander of the Black Sea Fleet, typed document signed during the siege of Sevastopol on 29 January 1942. Earlier, Oktyabrsky had been in charge of defense of Odessa, and later in the war, organized amphibious landings at Kerch and Feodosiya. A very interesting and uncommon document from the early period of the war.
$130.00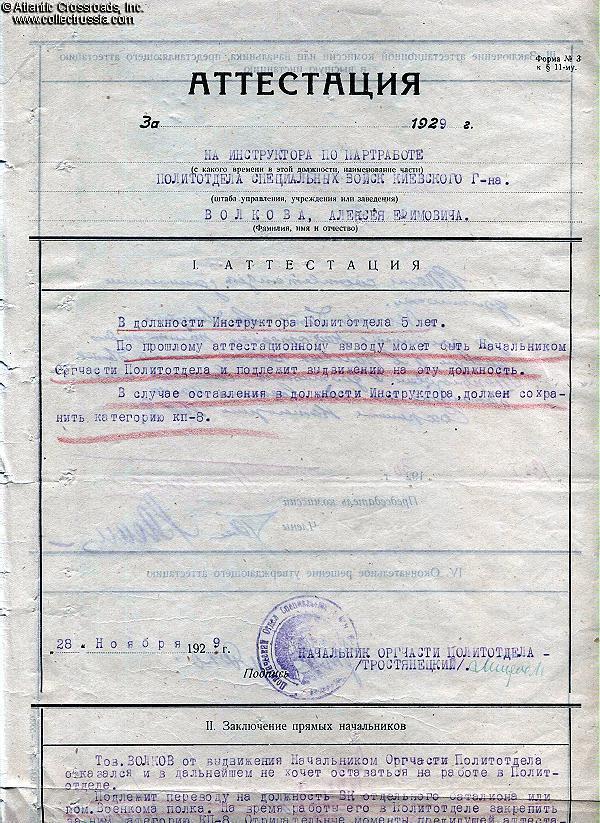 Iona Yakir, Commander of the Ukrainian Military District, typed document signed, January 1930. Yakir was certainly one of the most brutal Red Army commanders during the Civil War. Later an inspired military theorist who eventually became one of the highest ranking victims of Stalin's purge of the Soviet military in 1937.
$220.00