Order of the Red Banner
*CLICK ON THUMBNAIL OR ITEM NAME TO VIEW FULL DESCRIPTION AND PHOTOS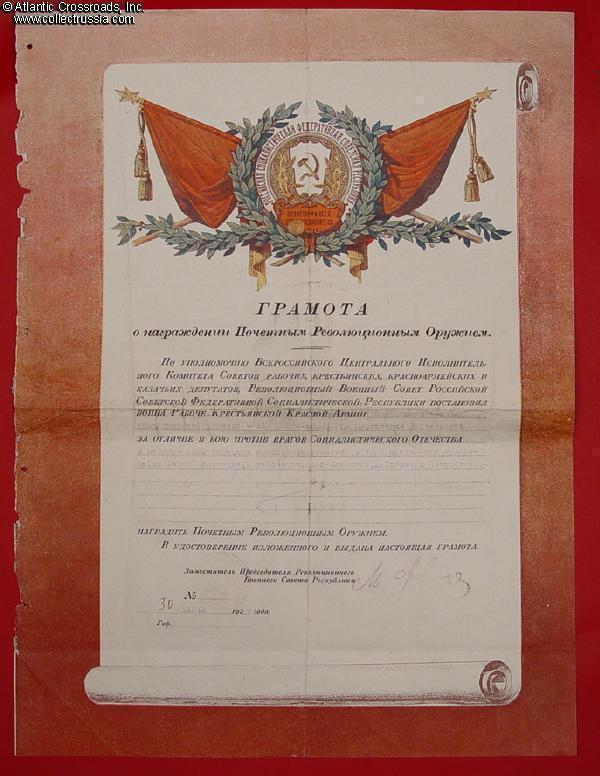 Large certificate for Honorary Revolutionary Weapon, a sword with the Order of the Red Banner of RSFSR inserted in the handle. One of only 21 Revolutionary Honor Edged Weapons ever issued.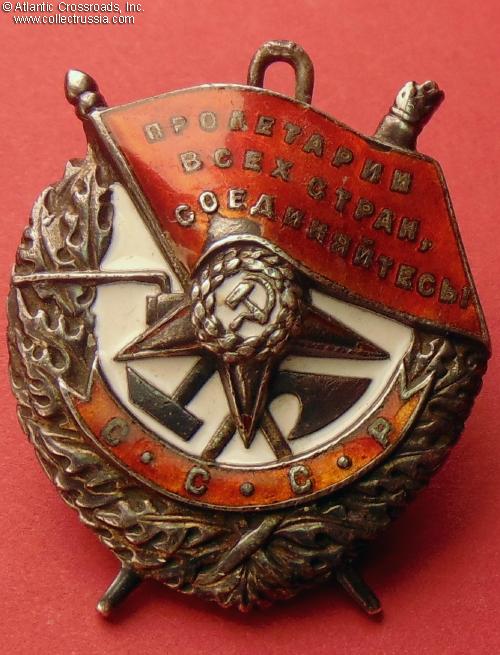 Order of the Red Banner, Type 2, Var. 3, Sub-var. 1, #46539, awarded to a reconnaissance scout platoon commander for ambushing a Finnish recon detachment in no man's land in Karelia in April 1944. He personally killed 3 enemy scouts in the skirmish that resulted in total annihilation of the enemy group. The award is a very interesting late issue screw back that was customized to wear on suspension without completely removing the screw post. The obverse is in fine condition, free of enamel repairs. Comes with comprehensive archival research.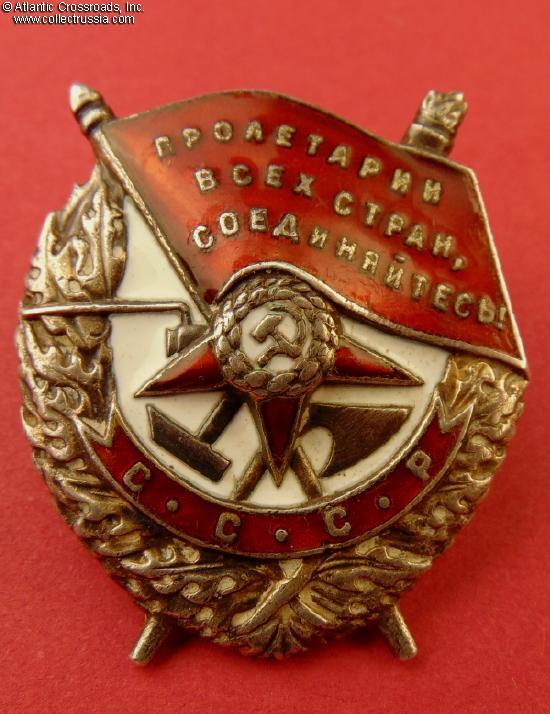 Order of the Red Banner, Type 2, Var. 3, Sub-var. 2, #68282, awarded in December 1942 to a company commander of a mountain rifle regiment for heroic actions during the defense of a key naval base of Tuapse on the Black Sea. He led infantry assaults on two fortified heights, personally killed 15 German soldiers, with his company destroyed 4 earth-and- timber pillboxes, and captured 8 submachine guns and 2 light machine guns. The Order of the Red Banner was his first combat decoration of the Patriotic War, but he later earned four more while serving as assistant chief of staff for reconnaissance of his regiment, rifle battalion commander, and deputy commander of a rifle regiment (not counting post-war awards for length of service.) The order is in very fine to excellent condition, a beautiful piece never converted to suspension and with enamel completely free of penetrating chips or repairs - an extremely uncommon case for the screw back type. Comes with archival research.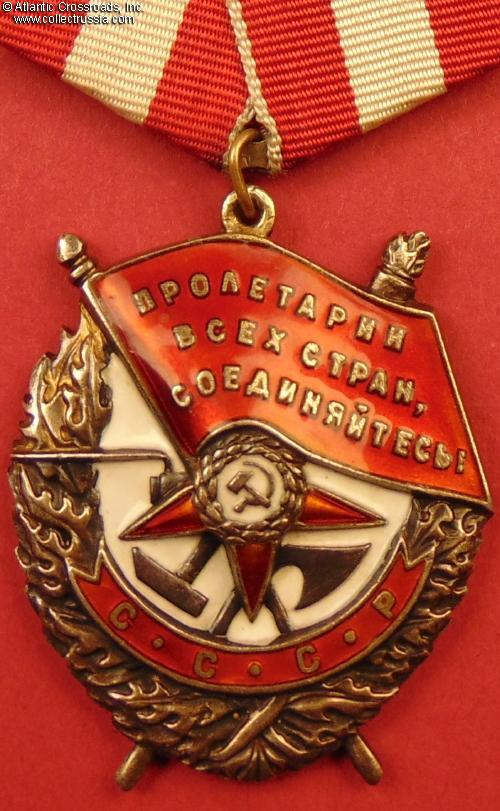 Order of the Red Banner, Type 4 Var. 1, #88397, awarded in September 1943 to a Major General, Chief of the Supply Train Service of the Main Engineering Agency of the Red Army. A very interesting recipient: he took part in the First Russian Revolution of 1905, joined the Bolshevik Party in 1905, and played an active and important role in the Russian Civil War. Unlike many other Soviet military and political leaders, he not only survived the Great Purge, but was decorated with an Order of Lenin in 1939. The Order of the Red Banner was bestowed on him for his contribution to supplying the Red Army troops by wagon trains and for setting up new production centers for that purpose after their evacuation into the Soviet interior in the early part of the Patriotic War. The award is in superb condition - literally cannot be upgraded. Comes with archival research.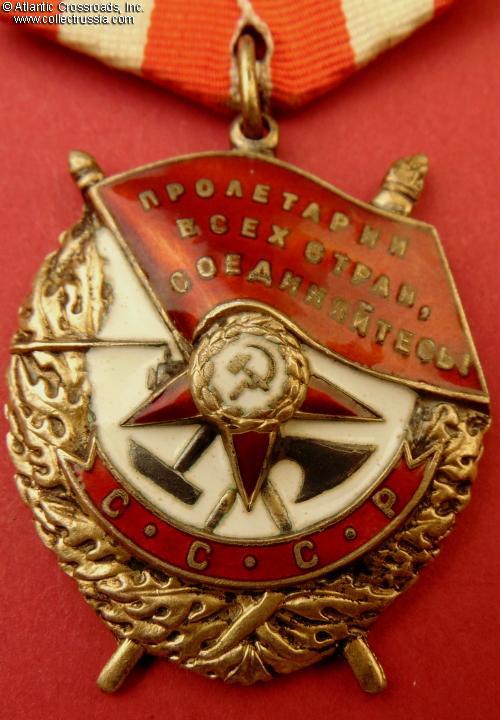 Order of the Red Banner, Type 4, Var. 2, Sub-var. 2, #215276, circa early 1945 issue. In superb condition and includes original suspension with immaculately preserved old ribbon. This is a truly exceptional wartime example, literally impossible to upgrade for condition.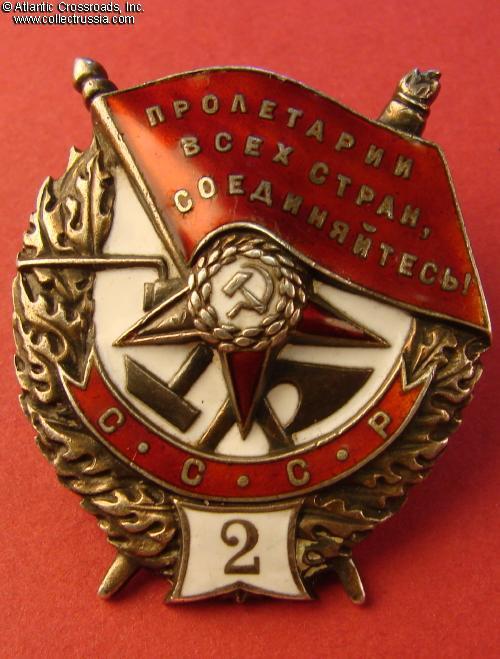 Order of the Red Banner, 2nd award, Type 2, Var. 2 (screw back with Monetnyi Dvor mint mark), #1370, awarded in November 1942 to a Sergeant Major, a rear gunner / radio operator of a Pe-2 dive bomber of the Kalinin Front. By September 1942, he had completed a total of 151 combat missions, most of them for aerial reconnaissance. On one of his early missions of the war he shot down a German fighter with assistance of two other gunners of his bomber group. The fact that he was decorated with a Second Order of the Red Banner is an exceptionally rare case: almost all recipients of consecutive Red Banner awards were commissioned officers, not NCOs. The decoration itself is a beautiful early piece with some highly uncommon features. Comes with archival research.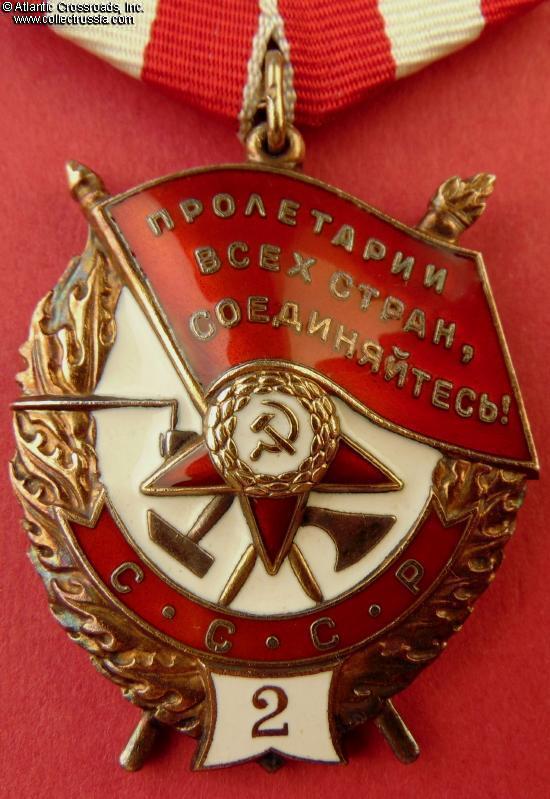 Order of the Red Banner, 2nd award, Type 5, Var. 2, #22159, circa 1952-53. In near mint condition - literally a flawless example.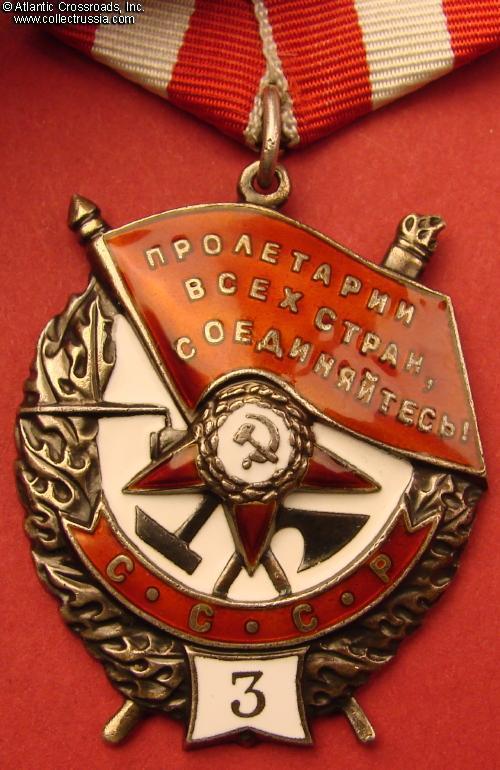 Order of the Red Banner 3rd award, Type 5, Var. 1, Sub-var. 2 (Durov & Strekalov classification), #7165, circa early 1950s. This is a very scarce version of the 3rd Red Banner: only 500 specimens were ever produced. Excellent example.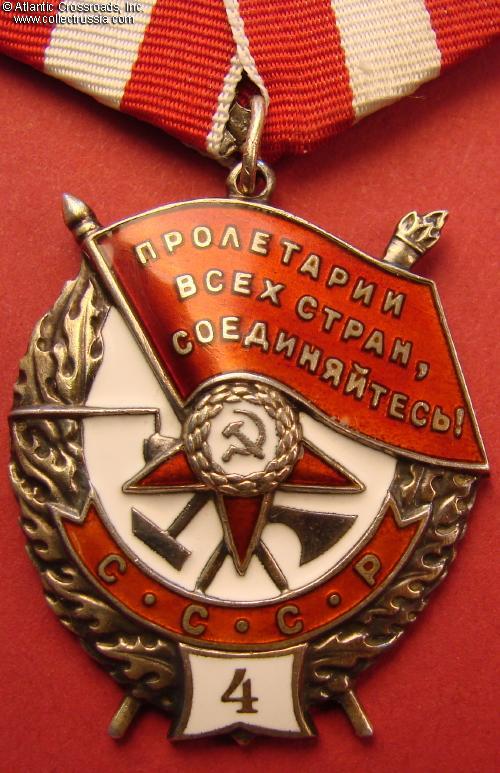 Order of the Red Banner 4th Award, Type 5, Var. 1, #2058, awarded in 1952 to an Air Force Major General, a Hero of the Soviet Union who had earned a Hero Star in the 1939-40 Winter War against Finland. In 1937-38 he flew 113 combat missions on a TB bomber in the Spanish Civil War. In the early part of the Patriotic War he commanded a bomber regiment and took part in nearly all the major defensive battles including Leningrad, Polar Region, Moscow, Caucasus, and Stalingrad. He continued to fly combat sorties throughout the war to train and lead other pilots, and by the V-Day had added 73 combat missions to his already impressive pre-war tally. After the war, he continued to serve in the Air Force, graduated from the General Staff Academy and in 1953, took part in the purge of the Air Force of the Moscow District following the arrest of its commander Vasiliy Stalin (son of late Joseph Stalin.) Eventually he rose to an Air Corps commander and retired only in 1973 having the rank of Lieutenant General.
The order is in excellent condition. Comes with archival research and copy of the article about the article about the recipient in the catalog "Heroes of the Soviet Union". A scarce fourth consecutive Red Banner award to an extremely interesting individual!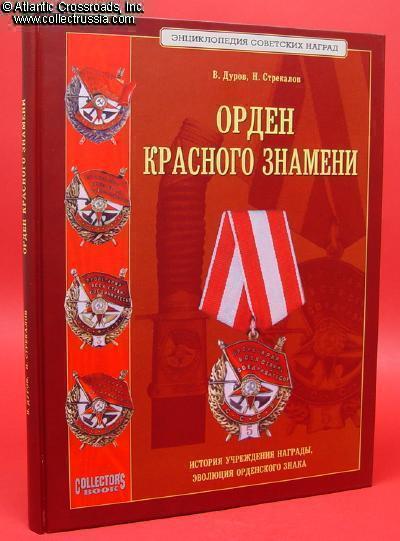 "The Order of the Red Banner" Durov, Strekalov, C. 2006, Moscow, Russian text. This landmark reference is a required reading for the serious collector of Soviet awards and is unlikely to be surpassed.