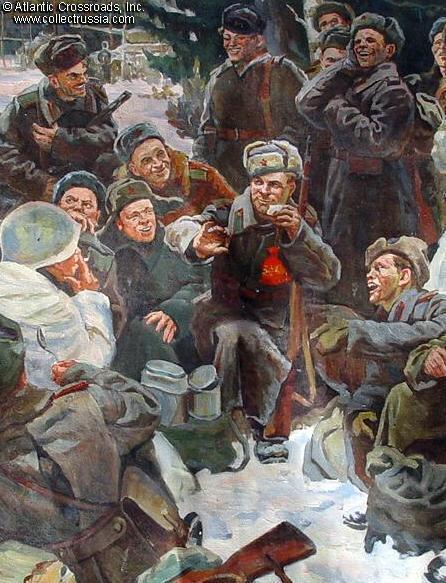 Contact CollectRussia
Atlantic Crossroads, Inc.
P.O. Box 144
Tenafly, NJ 07670
U.S.A.
Phone: 201.567.8717
24-hour FAX: 201.567.6855
Email:Sales@CollectRussia.com












Socialist Realism Paintings & Portraits
*CLICK ON THUMBNAIL OR ITEM NAME TO VIEW FULL DESCRIPTION AND PHOTOS
$750.00
Liberators, WW2 Red Army infantry marching through a recently captured area somewhere in East Europe, oil on canvas, either an original painting or possibly a hand-painted Soviet period reproduction of a 1940s-50s original by an unknown artist. Very large format, about 4' x 6 ½'.

$900.00
Construction Workers, Socialist Realism painting, oil on canvas, circa 1970s-80s. Very professionally done, apparently original piece by an unknown Soviet artist. Measures 57" x 39". In excellent condition.

$400.00
Autumn Park, original oil painting by signed by artist L. Chesnokov, 1980. Moody landscape in Socialist Realism style. Measures 55" x 41".