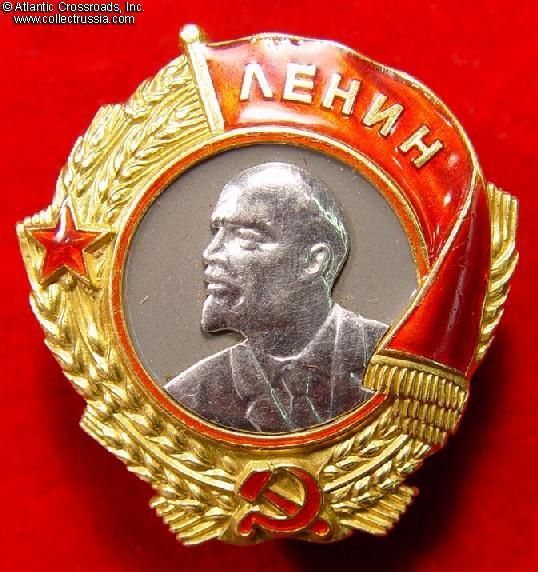 Contact CollectRussia
Atlantic Crossroads, Inc.
P.O. Box 144
Tenafly, NJ 07670
U.S.A.
Phone: 201.567.8717
24-hour FAX: 201.567.6855
Email:Sales@CollectRussia.com













Order of Lenin
*CLICK ON THUMBNAIL OR ITEM NAME TO VIEW FULL DESCRIPTION AND PHOTOS
$6,500.00
Order of Lenin, Type 4, Variation 1 (Durov Type III, Variation 1, Sub- variation 1), #3254, circa early 1937. Scarce version with double-tire screw post base, in very fine condition.

$5,600.00
Order of Lenin, Type 4, Var. 2 ("Monetnyi Dvor" screw back), #10153, circa late 1942 issue. A very fine piece never converted to suspension, and with relatively well preserved enamel.

$2,200.00
Order of Lenin, Type 5, Var. 2 (Durov Type IV, Variation 1, Sub-Variation 2), #26269, circa early- to mid-1945. Scarce wartime version without the "dimple" on the reverse. In very fine to excellent condition.

$45.00
"Order of Lenin. Order of Stalin (Project)", Valeriy Durov. C. 2005, Moscow. Large format Russian language hard cover, 143 pp, fine quality. Color detail photographs, front and back, of all known variations, as well as detailed history of the award. Outstanding reference guide to the highest Soviet decoration.