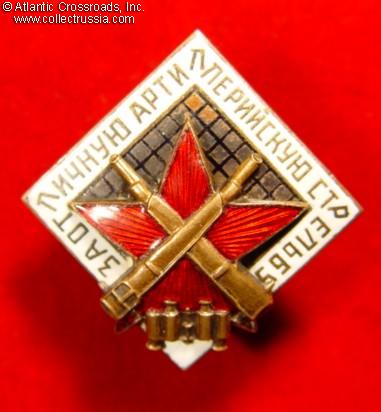 Contact CollectRussia
Atlantic Crossroads, Inc.
P.O. Box 144
Tenafly, NJ 07670
U.S.A.
Phone: 201.567.8717
24-hour FAX: 201.567.6855
Email:Sales@CollectRussia.com













Soviet Military Badges - Revolution to WW2
*CLICK ON THUMBNAIL OR ITEM NAME TO VIEW FULL DESCRIPTION AND PHOTOS
$2,950.00
Badge to a Red Guardsman and Red Partisan, #3063, 1932. Beautiful silver and enamel award issued by the Lensovet (Leningrad City Council). In superb condition.

$2,400.00
Badge of a Serviceman of the Volynsky Regiment (Volynets), 1917. This badge was awarded to one of the servicemen of the regiment's training battalion in St. Petersburg whose mutiny on 27 February 1917 started the chain of events leading to the abdication of Nicholas II and eventually, to the Bolshevik revolution later that year. Although issued during the brief Provisional Government period, this piece should be rightfully considered the first award of the new Soviet era - and a cornerstone of the advanced collection of early Soviet decorations. In very fine to excellent condition, the best specimen we have seen in years.

$900.00
Badge to a Hero of the Revolutionary Movement of 1917-1918, two-layered version in brass, 1932. In fine to very fine condition, better than the average.

$170.00
Photo ID of a Former Red Partisan, circa early 1930s. Issued to a former Red Partisan from Odessa region. In excellent condition, very uncommon for this type of document.

$740.00
Badge to an Honest Warrior of the Karelian Front, 1922. Scarce decoration of the Russian Civil War period, essentially the first Soviet campaign medal. The star is a replacement, but the badge is in otherwise excellent condition. Its overall state of preservation is outstanding for this early award.

$3,750.00
Excellent Tank Driver badge, #962, late 1930s. In very fine to excellent condition, literally the best example we have handled to date. Exceptionally rare piece, especially free of repairs and with original screw plate included. This piece can be a fabulous focal point even for the most advanced collection of early Soviet badges and medals.

$225.00
Voroshilov Marksman Badge, OSOAVIAKhIM issue, large type, #132383, 1932-1934. Early, single level badge issued before the introduction of the two levels of marksmanship in 1934. In excellent condition - very uncommon for the early badge.

$140.00
Voroshilov Marksman badge, OSOAVIAKhIM issue, 1st level, scarce smaller version (25 mm), 1934 - 1941. In superb condition - literally impossible to upgrade.

$950.00
Badge for Excellent Shooting, 1928 - mid-1930s. An extremely scarce, 53 x 41 mm version of the larger, two-piece version of the badge. Issued by the Vystrel advanced training school for Red Army officers and snipers. In excellent condition.

$350.00
Jetton for Winning the Second Place in Sharpshooting Competition, in hallmarked silver, 1928 issue. Inscribed on the reverse to a member or employee of the Ukrainian Government (Central Executive Committee of Ukraine.) A very attractive and uncommon early piece!

$350.00
Badge for Excellent Artillery Readiness, #12472, 1936-1941. A very uncommon piece in excellent condition. Includes original maker marked screw plate.

$295.00
Excellence in the Navy badge, Type 1 in silver, #2826, circa 1939. Mint marked "MD" to the reverse. Nice early WW2 naval award in very fine condition.

$295.00
Document for a Badge for the Battle of Lake Khasan , February 1940 issue to an NKVD Border Guard NCO. Contains a nice photo of the recipient. The document is in excellent condition.

$295.00
To a Fighter of OKDVA, OSOAVIAKhIM issue, 1930. Essentially a campaign medal, awarded to servicemen of the Marshal Blyukher's Far Eastern army for successful campaign against Manchurian warlord in 1929. In very fine condition, better than the average for this badge.

$560.00
Naval Air Force School graduate badge, 1944 type, 1944-1954. An attractive example of scarce WW2 naval aviator's wings in very fine overall condition. Includes original screw plate.

$1,300.00
Military Navigators School, graduation badge, 1938-1941. Extremely attractive badge in very fine overall condition.

$475.00
Parachute Instructor badge, Type 1 (1934 Model), #19645, circa late 1930s issue. Extremely rare pre-war model in fair to good condition.