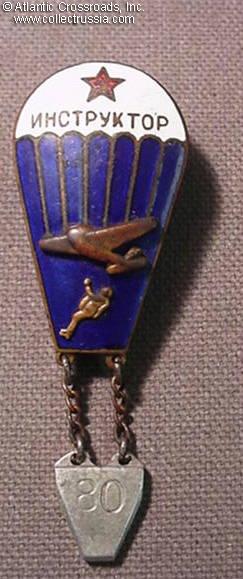 Contact CollectRussia
Atlantic Crossroads, Inc.
P.O. Box 144
Tenafly, NJ 07670
U.S.A.
Phone: 201.567.8717
24-hour FAX: 201.567.6855
Email:Sales@CollectRussia.com













Soviet Parachute Jump and Airborne Troops Badges
*CLICK ON THUMBNAIL OR ITEM NAME TO VIEW FULL DESCRIPTION AND PHOTOS
$195.00
Parachute jump badge, 1931 type, #27401, OSOAVIAKhIM issue, circa late 1930s. In very fine to excellent condition, well above the average for this first Soviet Paratrooper's badge. Includes original maker marked screw plate.


$85.00
Parachute Jump badge, 1936 type, circa mid- to late-1940s version with smooth reverse. In very fine to excellent condition. Includes original screw plate.


$75.00
Parachute Jump badge, 1936 type, circa 1950s. Late version with relief reverse and maker mark "MMD". In excellent condition and includes original mint marked screw plate.


$190.00
Parachute Jump Badge, by MTKh (Moscow Artists Cooperative) Factory, circa late 1940s- early 50s. Scarce version featuring more detailed image of the paratrooper and inside view of the parachute canopy. In superb condition.


$110.00
Parachutist-Sportsman badge, 2nd cl., late 1940s - 1950s. Mint marked "MMD" on the reverse. Scarce early version in very fine condition.


$80.00
Excellent Parachutist badge, distinctive 1955 - 1968 type featuring the "ears" on the sides for connecting the pendant. Comes with a pendant for 10 / 25 jumps. In excellent condition.


$40.00
Parachutist-Instructor, 1968 type, 300 jumps, circa late 1960s - early 70s. In brass and enamels, 4-piece construction.


$22.00
SIX Parachutist-Instructor badges, 1968 type, /Borisov fig. 104/, 100 through 1000 jumps.


$35.00
First Degree in Sport Parachuting, qualification badge, 1970s-80s.