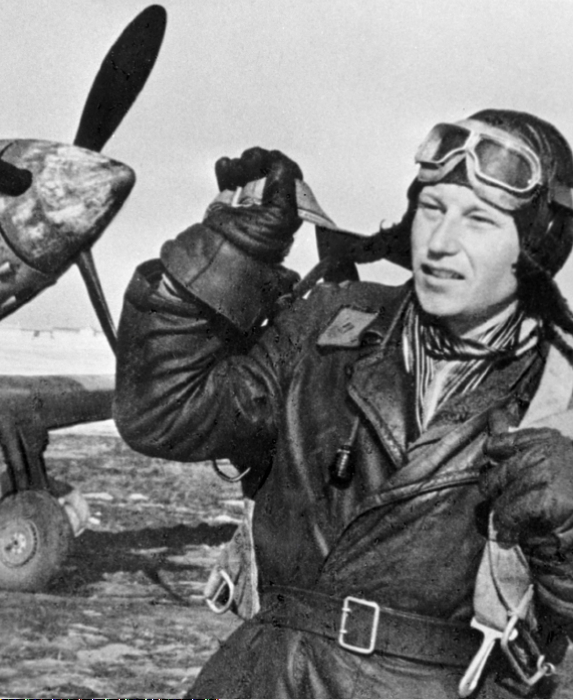 Contact CollectRussia
Atlantic Crossroads, Inc.
P.O. Box 144
Tenafly, NJ 07670
U.S.A.
Phone: 201.567.8717
24-hour FAX: 201.567.6855
Email:Sales@CollectRussia.com













WW2 Soviet Pilots
*CLICK ON THUMBNAIL OR ITEM NAME TO VIEW FULL DESCRIPTION AND PHOTOS
$18,000.00
Certificate for the Marshal Star and the Rank of Supreme Marshal of Air Force, with original case of issue Awarded in 1984 to Aleksandr Koldunov, the eighth highest scoring Soviet fighter ace of WW2, twice Hero of the Soviet Union, and supreme commander of the Soviet Air Defense in the late 70s through late 80s when he became a central figure in two historical debacles: the destruction of Korean Air flight 007 and Mathias Rust's landing in Red Square.


$150.00
Air Force Col. General Ivan Kozhedub (later promoted to Air Force Marshal), letter signed, June 1972. Kozhedub was the Top Allied Fighter Ace of WWII. The letter is addressed to one of the leaders of the Soviet space program congratulating him on successful completion of two key lunar missions. One of these was Luna 16 spacecraft which was the first to return a sample of lunar soil to Earth, while the other, Luna 17, landed the famous moon rover Lunokhod 1. The document is exceptionally interesting not only as an autograph of the top allied air ace of WW2 but also from the standpoint of history of space exploration.


$8,450.00
Order of Lenin Type 4 Var. 2 (screw back), #12176, awarded on 31 December 1942 to the navigator of a long-range bomber, 17th Long Range Aviation Division. In the first days of the war prior to being assigned to the long-range aviation, he had completed 10 daytime bombing missions targeting concentrations of enemy troops near Ternopol, Kiev and Poltava. On one of these early sorties his plane was set on fire by German fighters, but he managed to cross the front line before bailing out with a parachute. After his arrival to the new unit, he completed additional 29 nighttime combat missions against enemy airdromes, railway junctures and other targets in combat zones including Kursk, Bryansk, Oryol, Vyazma, Smolensk and Rzhev. In July 1942, he flew three long-range missions against Koenigsberg, at the time hundreds of miles away from the front line. During the following two months, after being recommended for his first decoration, he flew six more such missions against Berlin, Danzig and Budapest, and in May 1943, also took part in an air raid on Warsaw. By late 1943, he had an overall score of 140 completed combat missions earning him not only the Order of Lenin in December 1942, but also an Order of the Red Banner bestowed one year later. The order is in very fine condition, a very attractive piece never converted to suspension and without the usual severe enamel damage or repairs. Comes with archival research.


$5,800.00
Order of the Red Banner, 2nd award, Type 2, Var. 2 (screw back with Monetnyi Dvor mint mark), #1370, awarded in November 1942 to a Sergeant Major, a rear gunner / radio operator of a Pe-2 dive bomber of the Kalinin Front. By September 1942, he had completed a total of 151 combat missions, most of them for aerial reconnaissance. On one of his early missions of the war he shot down a German fighter with assistance of two other gunners of his bomber group. The fact that he was decorated with a Second Order of the Red Banner is an exceptionally rare case: almost all recipients of consecutive Red Banner awards were commissioned officers, not NCOs. The decoration itself is a beautiful early piece with some highly uncommon features. Comes with archival research.


$5,800.00
Order of the Red Banner 4th Award, Type 5, Var. 1, #2058, awarded in 1952 to an Air Force Major General, a Hero of the Soviet Union who had earned a Hero Star in the 1939-40 Winter War against Finland. In 1937-38 he flew 113 combat missions on a TB bomber in the Spanish Civil War. In the early part of the Patriotic War he commanded a bomber regiment and took part in nearly all the major defensive battles including Leningrad, Polar Region, Moscow, Caucasus, and Stalingrad. He continued to fly combat sorties throughout the war to train and lead other pilots, and by the V-Day had added 73 combat missions to his already impressive pre-war tally. After the war, he continued to serve in the Air Force, graduated from the General Staff Academy and in 1953, took part in the purge of the Air Force of the Moscow District following the arrest of its commander Vasiliy Stalin (son of late Joseph Stalin.) Eventually he rose to an Air Corps commander and retired only in 1973 having the rank of Lieutenant General.
The order is in excellent condition. Comes with archival research and copy of the article about the article about the recipient in the catalog "Heroes of the Soviet Union". A scarce fourth consecutive Red Banner award to an extremely interesting individual!


$65.00
Document for a Defense of Caucasus Medal, issued on 8 May 1945 - just one day before the official Soviet V-Day - to an Air Force Technical Service Captain. Hand-signed by commander of a Fighter Regiment. In excellent condition, uncommon for campaign medal certificates of large format.


$80.00
Document for a Capture of Vienna Medal, awarded in February 1946 to a senior lieutenant in a Guards Fighter Aviation Regiment. In excellent condition.


$1,850.00
Graduation Badge of the Third School of Military Pilots and Reconnaissance Pilots, #41, 1936-38 issue. This is one of the school-specific badges issued for only a short time prior to the far more common 1938 unified models. Note the typically low serial number. Perhaps an even bigger factor in the rarity of this badge than the small number of issues is the fact that the Soviet combat aviation cadres were virtually annihilated by the Luftwaffe in the first days of the Patriotic War. The badge is in very fine condition, outstanding for the early model, and comes with a rare original wing nut. A fantastic item to add to the serious collection of WW2 aviation memorabilia!


$590.00
RKKA Air Force Military Pilots School, graduation badge, 1938- 41. This nicely designed and well-made badge features an I-16 fighter in flight. In very fine condition, respectable for a Soviet pilot's badge of early WW2 period.


$1,100.00
School of Reconnaissance Pilots and Military Navigators, graduation badge, 1938-1941. Extremely attractive badge in very fine overall condition.


$170.00
School of Air Force Mechanics graduation badge, 1938-41. A superb example with silver finish intact. Includes scarce original screw plate.


$560.00
Naval Air Force School graduate badge, 1944 type, 1944-1954. An attractive example of scarce WW2 naval aviator's wings in very fine overall condition. Includes original screw plate.


$995.00
Badge of a Red Army Air Force Pilot-Instructor, 1945-1949. Extremely scarce badge in very fine condition.


$175.00
Air Force pilot heavy weight leather helmet, circa 1930s- early 40s. In black leather, with short flaps and fur liner. Approximate size 58. In good, solid condition with wear throughout and some losses to the fur on the interior, but still sound and presentable.


$95.00
Soviet Aviator's Leather Flight Mask, dated 1941. A very unusual part of the pilot's kit designed for flying in unheated cockpit in cold weather. In near mint condition.


$850.00
Sleeve Badge (patch) of Soviet Air Force Flight Command Personnel (officers and NCOs), late 1930s - early 40s.


$740.00
Soviet Air Force pilot's leather coat, circa 1930s / WW2. Black leather, full length, with a sturdy cotton liner. Medium size, approximately US size 38.


$995.00
Soviet Military Aviator's Leather Flight Jacket, circa mid 1940s - early 50s. Clearly copied from the American A-2 but all Soviet made. Size Medium / Large. Fine quality, extremely uncommon WW2 - early Cold War piece in excellent condition.


$25.00
Air Force private shoulder boards, sewn-on type , 1940s, mint unissued.


$170.00
Fur trimmed pilot's winter gauntlets, circa 1940s.


$145.00
Airman's gauntlets, circa 1930s-40s


$80.00
Unit citation to a combat aviator for taking part in the capture of the German port city of Swinemunde in May 1945, on one of the last days of the war. Vivid artwork depicting Il-4 airplanes raining bombs on a western city.


$270.00
Military Photo ID of a bomber navigator, an ethnic Jew. He had extensive Airborne Assault training and flew combat missions with a heavy bomber unit attached to Airborne troops. The ID contains very detailed WW2 service and award record. An extremely interesting and unusual document!


$740.00
Group of 3 log books of Colonel Dmitriy Petrov, WW2 Naval Air Force fighter pilot.


$2,900.00
Official 1944 Bell Aircraft Corporation Technical Data report on the P-63 Kingcobra fighter, as provided to the Research Institute of the Air Force of the Red Army. Shows results of all tests performed by Soviet AF pilots who came to the US. Kingcobras became successful tankbusters for the Soviets. Fascinating document and a rare piece of aviation history.


$295.00
Highest Officer School of Aerial Combat, certificate of graduation, November 1946. A highly uncommon document in ID booklet format issued to a fighter pilot. Hand-signed by Air Force General, a Hero of the Soviet Union, who commanded the school at the time.


$95.00
Group of 2 posthumous documents to a fighter pilot Captain Mikhail Dovgan, awarded with an Order of the Red Banner in 1939 for fighting against the Japanese in Mongolia, and killed in a plane crash in 1940, while still on his tour of duty in Mongolia.


$50.00
Spin Recovery Instruction for R-1 reconnaissance airplane pilots, mid 1930s


$40.00
Aviators group original photo, showing winter flight gear. Large format.


$35.00
Original group photo of aviators resting on an airfield, circa 1941. Shows 10 airmen dressed in M 40 summer uniforms.


$34.00
Original photo from WW2 negative. Two aviators in winter gear studying their assignment.


$240.00
Combat Pencil series, #36: "Combat Friendship", poster illustrates the heroic rescue of a crash-landed bomber crew, approximately 24"x16", circa 1942.


$235.00
Heroes of the Air War over Leningrad, the Complete and Original 1941 portrait portfolio.


$60.00
Guards Major Vladimir Shalimov, single print from the "1941-1942 Glory to the Heroes of the Great Patriotic War " portrait series. Large 12" x 18" image.


$60.00
Major Vasiliy Litvinov, single print from the "1941-1942 Glory to the Heroes of the Patriotic War" portrait series. Large 12" x 18" image.


$39.00
Contemporary lithographic portrait of pilot Hero of the Soviet Union. Nice.


$50.00
Lithograph of portrait Fighter ace Trofim Litvinenko, Hero of the Soviet Union. One of the famous circa 1944 "Heroes of Leningrad Front" portrait series.


$50.00
Lithograph of portrait Fighter ace Pyotr Pokryshev, twice Hero of the Soviet Union. He shot down 23 enemy airplanes Leningrad Front. Part of the "Heroes of Leningrad Front" series, circa 1944.


$30.00
Pilot Mikhail Gromov, lithographic portrait. One of the very first Heroes of the Soviet Union, he became one of the most highly decorated Soviet pilots, with 5 Orders of Lenin, 4 Orders of Red Banner etc.


$39.00
"Stalin's Eagles" Subtitled "An illustrated Study of the Soviet Aces of World War II and Korea". Hans D. Seidl c 1998, hard cover, 368 pp with photos of aces, uniforms, aircraft and insignia. A truly magnificent aviation book, highly recommended. English text.


$45.00
"V. P. Chkalov", Moscow, 1984, Planeta Publishing House. "Man. Events. Times" series photo album, Russian text. Valeriy Chkalov was a Soviet aviation icon and source of inspiration for generations of pilots. This scarce Soviet publication details the life of this famous aviator and test pilot. The book is in gently used, near mint condition.