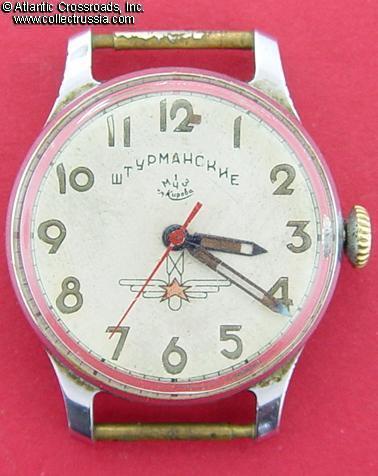 Contact CollectRussia
Atlantic Crossroads, Inc.
P.O. Box 144
Tenafly, NJ 07670
U.S.A.
Phone: 201.567.8717
24-hour FAX: 201.567.6855
Email:Sales@CollectRussia.com












Soviet Watches and Clocks
*CLICK ON THUMBNAIL OR ITEM NAME TO VIEW FULL DESCRIPTION AND PHOTOS
$750.00
First Man-Made Satellite of Earth (Sputnik), a massive and unusual mantle clock by the Kasli Iron Works, circa 1960s. The model for this casting was created in 1958 by sculptor A. Gilev. The statuette is in excellent condition; the clock doesn't run but can be replaced. A very interesting collectible of the early Space Age.

$90.00
Executive Desk Clock by Majak, a 1960s model made in the second half of the 70s. Heavy, well made, and attractive, this piece is perfect for placing on either a desk, bookcase, or mantelpiece. In very good working condition.