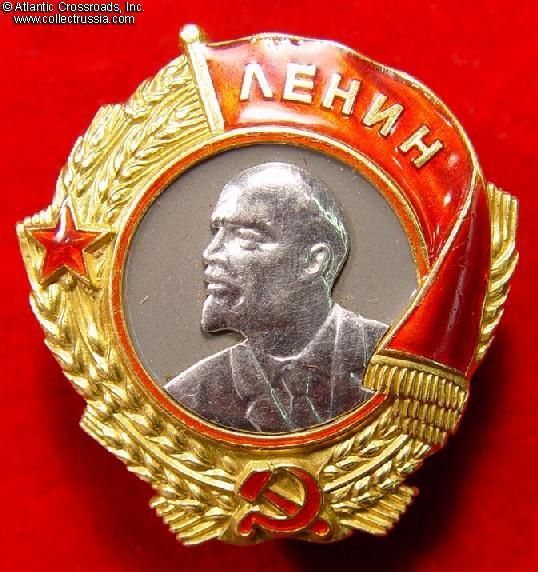 Contact CollectRussia
Atlantic Crossroads, Inc.
P.O. Box 144
Tenafly, NJ 07670
U.S.A.
Phone: 201.567.8717
24-hour FAX: 201.567.6855
Email:Sales@CollectRussia.com











Order of Lenin
*CLICK ON THUMBNAIL OR ITEM NAME TO VIEW FULL DESCRIPTION AND PHOTOS
$7,900.00
Order of Lenin, Type 4, Var. 1 "Mondvor", #7889, circa early 1942 issue. An very uncommon issue with engraved serial number. This is probably a confiscated early award of one of the victims of the purges, re-used as an emergency measure in the first year of the Patriotic War. In very fine condition.

$3,400.00
Order of Lenin, Type 5, Var. 1, #46033, awarded in June 1945 to a Hero of the Soviet Union, Artillery Regiment Commander (issued with his Hero Star). The Title of Hero was bestowed for heroism and exceptional leadership in breaking through the fortified German defense lines on the Vistula, Oder and Opava rivers and the capture of the city of Moravska Ostrava. The award is in superb condition. Comes with archival research.

$3,200.00
Order of Lenin, Type 5, Var. 1, #44429, awarded in February 1945 to an NKVD Colonel. In outstanding condition. Includes partial archival research; additional fascinating details about the recipient's participation in the defense of Odessa in 1941 and his photos were found on the Internet.

$2,095.00
Order of Lenin, Type 5, Var. 1, #122328, circa 1950 issue. In 23 K gold, platinum and enamels. Minor enamel repair near the eyelet, very fine overall condition.

$2,400.00
Order of Lenin, Type 6, Var. 1, #244317, circa 1953. A near perfect example of the Leningrad Mint manufacture.