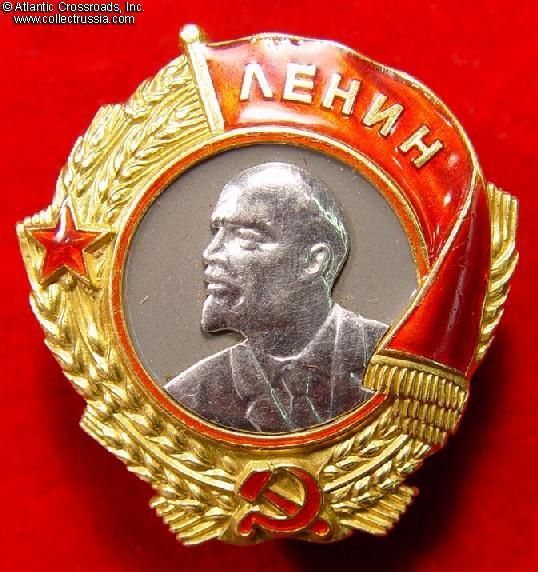 Contact CollectRussia
Atlantic Crossroads, Inc.
P.O. Box 144
Tenafly, NJ 07670
U.S.A.
Phone: 201.567.8717
24-hour FAX: 201.567.6855
Email:Sales@CollectRussia.com











Order of Lenin
*CLICK ON THUMBNAIL OR ITEM NAME TO VIEW FULL DESCRIPTION AND PHOTOS
$5,950.00
Order of Lenin, Type 4, Var. 2 ("Monetnyi Dvor" screw back), #10153, circa late 1942 issue. A very fine piece never converted to suspension, and with relatively well preserved enamel.

$1,800.00
Order of Lenin, Type 5, Var. 1, #122860, with a document, awarded in 1950 to a Hero of Socialist Labor. The booklet contains entries for the Order of Lenin and Gold Hammer and Sickle Medal that were bestowed simultaneously (the latter decoration is now missing). The document contains a photo of the recipient, Khe Ben-Khi, who was apparently of Korean ethnicity.Very interesting set in excellent condition.

$1,950.00
Order of Lenin, Type 5, Var. 1, #58067, circa mid to late 1945. Desirable WW2 era example in superb condition.

$1,595.00
Order of Lenin, Type 5, Var. 1, #155793, circa 1951 issue. In 23 K gold, platinum and enamels. Excellent condition, outstanding for a WW2 type.

$2,200.00
Complete Documented Group of 3 decorations including a circa 1956 Order of Lenin, Order of the Red Banner, and a wartime Order of the Red Star. The Lenin and Red Banner are in excellent condition, whereas the Red Star has damage to enamel.

$1,540.00
Order of Lenin, Type 6, Var. 2 (engraved serial number), #443730, circa late 1970s - late 1980s issue. In 23 K gold and platinum. This is the last version of the Order of Lenin, featuring serial number with raised underline, located above the lower rivets. A beautiful example in near mint condition, impossible to upgrade.