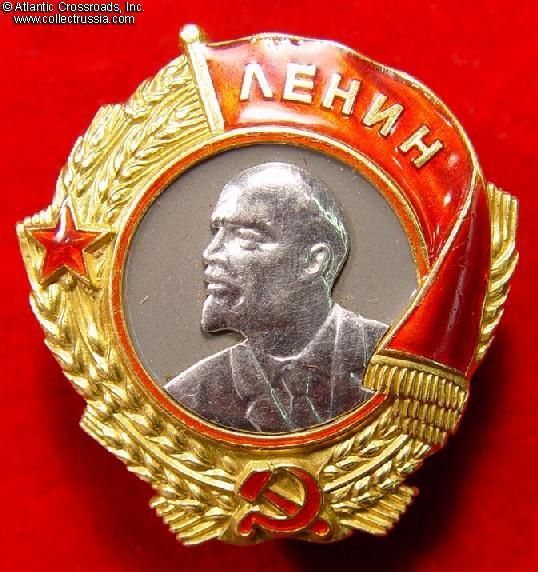 Contact CollectRussia
Atlantic Crossroads, Inc.
P.O. Box 144
Tenafly, NJ 07670
U.S.A.
Phone: 201.567.8717
24-hour FAX: 201.567.6855
Email:Sales@CollectRussia.com











Order of Lenin
*CLICK ON THUMBNAIL OR ITEM NAME TO VIEW FULL DESCRIPTION AND PHOTOS
$17,000.00
Order of Lenin, Type 4, Var. 1 (Durov Type III, Variation 1, Sub-variation 1), #3337, awarded in 1937 to a distinguished Soviet polar explorer, scientist and naval engineer. Scarce variation with double-tier screw post base, one of just about 1000 ever made. In very fine condition, well above the average for the screw back type. Both the award and the recipient are extraordinary.

$7,000.00
Order of Lenin, Type 4, Var. 1 "Mondvor", #7889, circa early 1942 issue. An very uncommon issue with engraved serial number. This is probably a confiscated early award of one of the victims of the purges, re-used as an emergency measure in the first year of the Patriotic War. In very fine condition.

$6,500.00
Order of Lenin, Type 4, Var. 2 ("Monetnyi Dvor" screw back), #9527, with a document, awarded in November 1942 to a heroic U-2 night bomber pilot. He had completed 302 combat missions including hundreds on strafing and bombing attacks upon German artillery emplacements and ammunition dumps, 7 missions to drop paratroopers, and flights in which he battle-tested new Air-to-Surface Missiles - and proved their effectiveness! The order is in fine condition; has moderate enamel damage and has been reconverted from suspension, but retains its original screw post and impressive overall appearance. Comes with comprehensive archival research and English translation.

$5,950.00
Order of Lenin, Type 4, Var. 2 ("Monetnyi Dvor" screw back), #10153, circa late 1942 issue. A very fine piece never converted to suspension, and with relatively well preserved enamel.

$3,200.00
Order of Lenin, Type 5, Var. 1, #44429, awarded in February 1945 to an NKVD Colonel. In outstanding condition. Includes partial archival research; additional fascinating details about the recipient's participation in the defense of Odessa in 1941 and his photos were found on the Internet.

$1,945.00
Order of Lenin, Type 5, Var. 1, #122328, circa 1950 issue. In 23 K gold, platinum and enamels. Minor enamel repair near the eyelet, very fine overall condition.

$2,600.00
Order of Lenin, Type 6, Variation 1, #359162, with a document, February 1958 issue. A perfect Leningrad mint example.