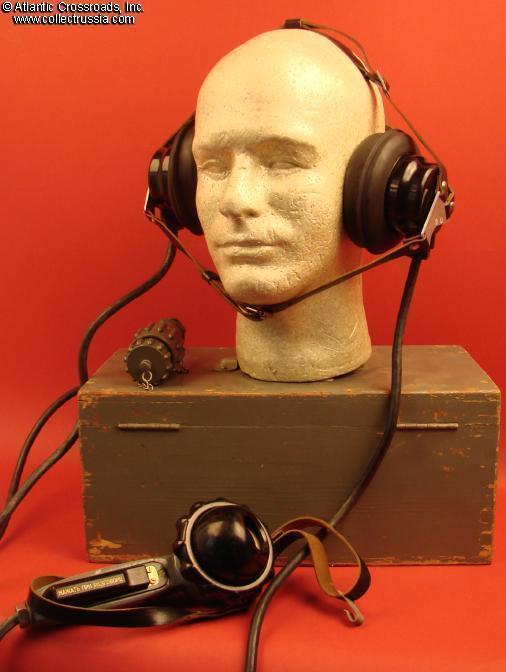 Contact CollectRussia
Atlantic Crossroads, Inc.
P.O. Box 144
Tenafly, NJ 07670
U.S.A.
Phone: 201.567.8717
24-hour FAX: 201.567.6855
Email:Sales@CollectRussia.com













Soviet Military Equipment, Cold War Era
*CLICK ON THUMBNAIL OR ITEM NAME TO VIEW FULL DESCRIPTION AND PHOTOS
$85.00
Small Soviet Navy Compass, type as used in landing boats and other small craft. Unmarked, probably 1960s.


$17.00
Army enlisted man belt, dated 1990. Unissued, almost factory fresh condition.


$20.00
Army / Air Force officer full dress belt, 1987. Will fit up to at least 38" waist, but easily adjustable to fit smaller sizes. Excellent condition.


$24.00
Naval officer's full dress belt with dagger hangers, adjustable up to a 44" waist, circa 1970s-80s. Excellent, unissued condition.


$450.00
Full Dress Belt with Dagger Hangers for Navy officer of Engineering or Administrative branch, 1947-1951. In silk brocade, complete with massive gold buckles and hardware for the dagger. Beautiful quality, uncommon piece. Excellent condition.


$80.00
M 1955 Waist Belt with Hangers for Navy Officer Dagger, circa late 1950s - early 1960s. Heavy duty black silk ribbon with black velvet lining, anchors and stars on brass buckles, larger round buckle on the front. Will fit up to 31" waist in its current configuration, but it may be possible to extend it to about 42" size. In excellent good condition. This belt is a perfect accessory for any Soviet naval dagger from 1950s or later.


$90.00
Soviet Flare Gun Holster and double pouch for extra flares, dated 1971. An uncommon matching set in very good condition.


$60.00
High Quality Officer's or NCO's leather map case, smaller size, mid 1930s pattern, made in Soviet-Occupied Eastern Germany or Poland, circa late 1940s. Attractive piece in very good condition.


$110.00
Officer's leather map case, dated 1946. Made immediately after the war but essentially a WW2 model. In very good to excellent condition.


$140.00
Large Map Case for Generals or Senior Staff, dated 1977. This extremely scarce, oversized 10 ½ x 13 ½ model is much larger than the standard 8" x 13" officer map case. In very good condition.


$5.00
Mess Hall Dinner Plate in aluminum, original Soviet manufacture from 1970s-80s.


$15.00
Soviet Army Issue Winter Sheepskin / Cotton Mittens, dated 1984. New old stock pair in mint condition.


$35.00
Officer dress aiguillette circa 1970s-80s. A hard to find item to complete a parade uniform. Excellent unissued condition.


$14.00
Enlisted Man's / NCO's dress aiguillette for parades and honor guard details. Circa 1970s-1980s. New old stock in excellent unissued condition.


$17.00
Shoulder Sling for Mosin-Nagant Rifle, in olive drab canvas, dated 1951. Unissued early Cold War Soviet surplus in superb condition, shows storage age only.


$55.00
SVD Dragunov sniper rifle canvas cover, dated 1971. About 46" lengthwise, 54" folded. Unissued.


$5.00
Canvas Pouch for Hand Grenades, circa 1970s-80s. In excellent condition, shows storage age only.