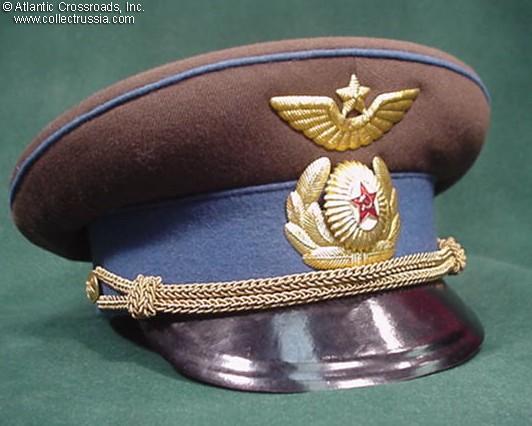 Contact CollectRussia
Atlantic Crossroads, Inc.
P.O. Box 144
Tenafly, NJ 07670
U.S.A.
Phone: 201.567.8717
24-hour FAX: 201.567.6855
Email:Sales@CollectRussia.com











Cold War Uniforms, Officer & Enlisted
*CLICK ON THUMBNAIL OR ITEM NAME TO VIEW FULL DESCRIPTION AND PHOTOS
$390.00
M 1955 Mundir Tunic for a KGB State Security Major Dress Uniform, 1956-58. Fine example of a tunic from the brief era of the Zhukov reforms. Medium size, about a US 39 regular.

$195.00
M 1955 "Land Forces Officer Dress Coat" for an Artillery captain, 1956-58. Uncommon survivor of the short-lived Zhukov uniform reforms.

$115.00
Navy Enlisted / NCO Overcoat as worn by naval infantrymen, circa 1980s. Small size.

$65.00
Soviet Army Sergeant's and Enlisted Man's field uniform jacket. Size 46-2, 1977 dated, in excellent unissued condition.

$90.00
Unissued Soviet Navy Full Dress "Navy Uniform #1, summer parade, for officers, warrant officers and extended service personnel": white wool jacket and trousers complete with a pair of unissued gold bullion parade uniform shoulder boards and two rank stars - sufficient to complete a uniform as worn by a Captain, Third Rank, C 1980s.

$35.00
Soviet Army or Air Force Enlisted Man's full dress uniform, jacket and straight leg trousers, dated 1991. Mint unissued condition.

$39.00
Soviet Army Enlisted Man's Service Uniform. 1991 dated tunic and trousers, in mint unissued condition. Size Small.

$95.00
KZS net camouflage suit, dated 1979. Pants and smock in loose fitting cotton burlap. Outstanding early war display piece, in top condition.

$450.00
KGB Border Guard / Spetsnaz Camouflage Winter Uniform, dated 1987. Includes heavy tunic in "Computer" camouflage pattern with additional separate button-in padded liner, plus matching pair of pants, also with detachable liner. Well above the usual quality standards of most Soviet Uniforms. Medium size, Russian 50-4. Scarce matching set in mint unissued condition.

$240.00
Woodland Pattern summer camouflage uniform, undated but probably circa 1990. Includes matching jacket and pants in mint, unissued condition.

$30.00
Enlisted Man's dress aiguillette for parades and honor guard details. Circa 1970s-1980s.

$9.00
KGB sleeve badge, 1970s-80s.

$6.00
OMON sleeve badge, 1970s-80s.

$29.00
Paratrooper cloth helmet, dated 1986. Approx. size 59, excellent unissued condition.

$10.00
Wool gloves, dated 1989, as used by Soviet servicemen in the field during WW2. In unissued condition, with manufacturer's tag attached.