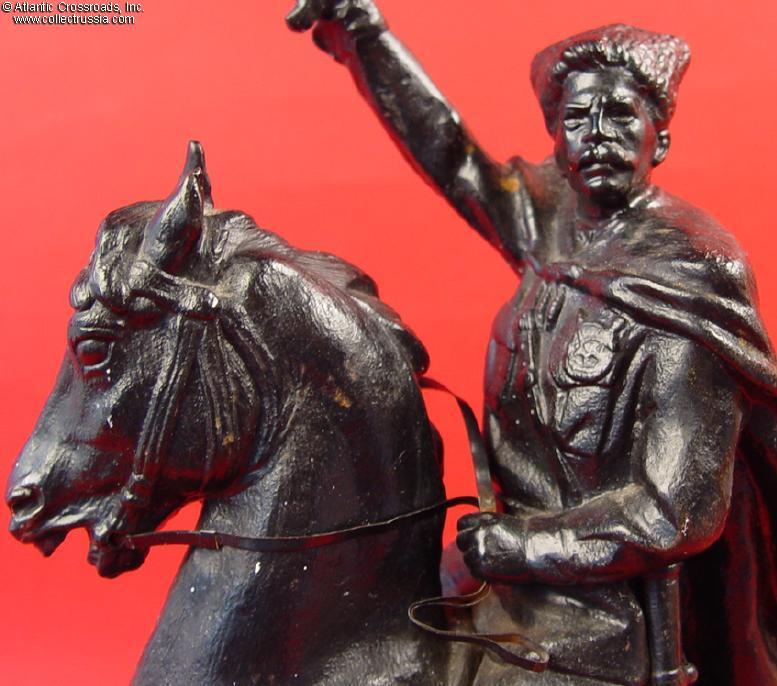 Contact CollectRussia
Atlantic Crossroads, Inc.
P.O. Box 144
Tenafly, NJ 07670
U.S.A.
Phone: 201.567.8717
24-hour FAX: 201.567.6855
Email:Sales@CollectRussia.com













Cast Iron Statuettes & Busts
*CLICK ON THUMBNAIL OR ITEM NAME TO VIEW FULL DESCRIPTION AND PHOTOS
$650.00
Stalin, large size bust in cast iron, Kasli Iron Works, dated 1946. By Pavel Anikin. Rare and impressive early piece. The bust has been professionally repainted but is in otherwise excellent condition, free of noticeable rust, dents or other damage of any kind. For more Stalin statuettes, please visit the Sculptures of Lenin & Stalin, section of our website.


$370.00
Large and Massive Cast Iron Bas-Relief Portrait of Stalin, circa 1939-41, probably intended for display on the wall of an office or perhaps on the front of a public building. 9.5" in diameter with raised portions ¾" inch high at their widest. Kamensk, Ural foundry marked piece in outstanding condition.


$790.00
Bust of Vladimir Ulyanov (Lenin) as a High School Student, massive 15" tall piece in cast iron. One of the most uncommon and finest busts of Lenin we have ever handled. Shows Kasli foundry mark and a 1964 date of manufacture. A superb piece.


$1,100.00
Massive Standing Statue of Sergei Kirov in Cast Iron, manufactured by KhLM Factory, Moscow in 1960s-70s. Measuring 22" tall and weighing 28 lb, this rare model of a monument to a slain Bolshevik leader can become a unique focus point for the advanced Soviet collection. The huge original monument is still standing in the city of Kaluga near Moscow.


$425.00
Kasli cast iron sculpture of horsemen, dated 1961. High quality Soviet decorative artwork standing an impressive 11" tall.


$90.00
Cossack Man and Woman Bidding Farewell (aka Farewell Kiss or Farewell of a Cossack), a 1977 cast iron sculpture after a famous model by the acclaimed XIX C. sculptor Evgeniy Lansere. A very complex equestrian group by the Kasli Iron Works. Missing a small part and repainted, but very impressive nonetheless, this fine decorative item of Soviet era can be a focal point of a Russian display at a small fraction of the cost of pre-revolutionary casting.


$150.00
Black Sea Sailor or Naval Infantryman in desperate hand-to- hand combat against the Fascists. Cast iron sculpture, dated 1979.


$195.00
Attractive Cast iron Kasli statuette depicting a decorated Red Army soldier returning home to his daughter. Dated 1986.


$90.00
Young Footballer (Soccer Player) statuette, Kasli, 1976. This elegant cast iron piece shows "Made in the USSR" mark beside the foundry mark at the bottom, indicating higher quality goods suitable for exporting. Stands 7¼" tall.


$90.00
Tennis Player, cast iron figurine by the Kasli Iron Works, dated 1961. An inspired rendition of a female athlete. The tennis racket has been replaced or repaired, but the statuette still looks very impressive. Stands 7" tall.


$750.00
Maya Plisetskaya, very large cast-iron figurine by the Kasli Iron Works, dated 1984. A lovely portrayal of a Soviet icon, this figurine captures all the grace of the famous ballerina. Excellent condition. Stands 19.5" tall.


$110.00
Young Dreamer (Boy with a Toy Space Rocket), cast iron figurine by the Kasli Iron Works, 1964. This statuette evoking the new generation of future cosmonauts comes from the era of the early Soviet triumphs in space. Measures over 8" in overall height.


$180.00
She Got Lost (aka Girl with a Wicker Basket), cast iron figurine by the Kasli Iron Works, 1963. Stands 8 3/4" tall. This early work by sculptor Venkova is relatively scarce: rated R2 for rarity in the "Cast Iron Art" catalog by A. Zak.


$120.00
Schoolgirl with a Kid Goat, cast iron figurine by the SChLZ (Sverdlovsk Iron Works), late 1950s - early 60s. A relatively small but complex piece by a less common manufacturer.


$50.00
Little Boys with a Book, cast iron figure, circa 1950s. Unmarked, possibly SChLZ manufacture. Measures 4 ¾" in width. A very uncommon piece!


$975.00
Schoolgirl with a book, cast-iron figurine by the Kasli Iron Works, dated 1957. A quaint and relatively rare statuette of massive size: stands 19.5" tall. Excellent condition.


$60.00
Chicken, cast iron figurine by the Kusa Iron Works, circa 1970s. A hatchling standing next to its broken shell is exuding almost comical confidence. A fine quality figurine by a less common Soviet cast iron maker.


$600.00
"Dogs Pointing", Large Statuette in Cast Iron by the Kusa Foundry, dated 1970. Based on the work of Pierre-Jules Mene, a XIX C. French sculptor highly acclaimed for his masterful portrayals of animals and hunting scenes. Massive piece measuring over 15" in length.


$75.00
"Cast Iron Art, 1920 - 2009", Aleksandr Zak, C 2009, Ekaterinburg. Russian text hardcover with beautiful close up photos of over 300 examples of Soviet decorative cast iron statuettes and busts. Both main manufacturing centers, Kasli and Kusa, are amply represented. Special attention is given to the foundry marks and small distinguishing details of the figurines.